How To Start a BlogandMake Money
A Step-by-S​tep Guide For Beginners
You've just made a right decision to come here. Because, this Comprehensive guide on how to start a blog, may change your blogging future!
In this guide, I want to help newbies who want to get started in blogging and willing to make money in blogging. You'll learn step-by-step, how I built a blog that started earning $1000/month within 7 months.
This post will be a huge post, and I'll present you the step by step strategies that I used to build my site. This post includes the niche selection process, content strategy, outsourcing, SEO part, and also the CRO (conversion rate optimization) part I did for growing my revenue.
If you are serious about building tangible income online with your blog, make sure you read this guide.
Why to start a blog?
Before proceeding further, you should ask yourself, why do you want to start a blog? You can do a lot of things with blogging apart from starting a blog and making money from it. There are numerous benefits of having a blog of your own. Here are some of the advantages of starting your own blog:
You can express your thoughts and talent: With blogging, you can share your thoughts or opinions and the talent you have in you. Blog is the best place to talk about anything else that you want to share whether it is business tips, motivational tips, health tips, technology tips and everything in between.
You can help others: Blogging provides you a platform to help people in the situations they are facing. Suppose you are running a health tips blog and when people read your articles and find it helpful. This may lead to growth of your blog and you can get a great exposure to the worldwide audience.
You can earn money from home (or anywhere): The most important benefit of starting your own blog is to make money from it. There are many bloggers who choose full-time blogging as their carrier and making 6-figure income from blogging. With blogging you can make money too working either from home or from anywhere else. However, it's important to note that blogging require a lot of hard work and patience to get the good results.
You can get fans and followers: Blogging, not only provide you money but if it done right, you can also create a personal brand and increase your fan following.
Apart from these benefits there are more benefits of having your own blog that will tell you the reasons of building a blog online and earning money from it.
Now let's discuss how you can start a blog and make money from it?
How to Start a Blog And Make Money in 6 Easy Steps
In this step by step guide to starting a money-making blog, I will walk you through the 6 steps you need to to start your own blog and make money.
STEP-1: Find Your Blog Niche
How to find a niche is considered nowadays one of the most important things in the world of creating blogs. First of all and before going any further, we have to give a definition of what the term niche signified in the field of blogging.
In the case of a business website, it is easy to determine. But when you want to create a personal blog for earning money or something else then it is the most crucial thing. Don't ever select the topic; you don't have the knowledge about or passionate about.
So before selecting a topic, remember following things:
1) Choose a topic that you are passionate about
Blogging is all about passion. When you are passionate about something, you'll enjoy the whole process, from writing a blog post to researching the latest trends. You won't get tired of writing about the topic that you are interested in. On the other hand, if you are writing about a topic that doesn't interest you, you will not be able to pull it off.
2) Choose a topic you are experienced in
You don't need to be an "expert" to get started with blogging, start a blog on something that is already very familiar to you or choose the one that you're able to develop in quickly. Write down the things that you are particularly knowledgeable about. This will give you some ideas and true scope of the possibilities for your blog.
3) Choose a topic you will be able to make money on it
Although money is not always the case. There are the people who want to start blogging as a hobby, their intention is not to earn money from it. But in future, if you would like to monetize your blog then you should keep this in mind while choosing a niche.
You have to do some research on other sites with similar niche about their monetization strategy. This will require proper keyword research and analysis of products and goods you'll be able to sell and promote.
There is a list of the top niches that you can choose for your new blog:
Weight Loss

Pets

​Blogging Tips

Entertainment & Celebrity Gossip

Finance

​Technology
​Business

Travel

Food

Gaming
STEP-2: Get a Hosting and a Domain Name
The Name of your Blog is the most important thing for better blogging. Domain names are the address of your blog. Finding an awesome name for your blog is very difficult task. People will need to know your domain if they ever want to visit it again.
If you host your blog on free hosting options like Blogger or WordPress, you can create a custom domain easily like www.yourblogname.com instead of www.yourblogname.blogspot.com or www.yourblogname.wordpress.com. The URL (www.yourblogname.com) will feel a premium look for your blog and people seems to know that you blogging very seriously.
Caution: Don't go for the lucrative tutorials like how to create a blog for free. Free blogs have many limitations and you cannot monetize them easily. They have less SEO value and it become very difficult to rank with free blog on Google no matter what SEO techniques you follow.
The main disadvantage of using free blogging platforms is that you are not the owner of your content. Your content might be deleted by them without informing you.
Important things to remember when pick a Domain name
The name must be related to your blog topic or content. Use short keywords in your domain names.

Don't use very large or very short domain names.

Domain name must be easy to remember for visitors and a word that anyone could easily spell.

Don't stole domain name

.com, .org, .net are the most popular TLDs. So, use this only.

Do not use hyphens (-) in your domain name if possible. Yourblogname.com can be easily searched and memorable than your-blog-name.com

Use your blog name as the domain name. eg: TheLifeTech is my blog name and its URL is

www.thelifetech.com
Where to Buy a Domain Name?
There are number of hosting companies available but you have to choose the one that should be:
affordable,

fast, secure,

reliable, and

Has a good customer service.
You can use the tool below to check your domain is available or not.
You can search for available domain names and register them with Godaddy or Namecheap. You could get a domain name for as low as 99Rs- 1000Rs. It is not a big amount. There are so many domain name providers available in this online world. Some of the popular domain providers are listed below.
Hosting your Blog on a Server
After choosing your domain name, the next step to make blog is choosing your hosting company. You want to choose a good hosting company that gives you a good loading time. A bad hosting company will take a long time for load your webpage and it will reduce your blog readership. Most of the best companies like Inmotion and Bluehost will charge an extra amount for a small hosting space. But don't forgot that, these extra money can make all the difference to your blog and to your traffic!!
Best Hosting Providers
Why I personally recommend Bluehost?
I recommend Bluehost.com for hosting your blog to keep yourself secure. I always prefer buying my hosing and domain from Bluehost for my various projects. You can host your blog there for $3.95 per month. Here are the reasons why I strongly recommend Bluehost.
​

Bluehost has an excellent online support.

​You can go for their live chat option and you can clear your all issues related to hosting.
​There are no downtimes.
​You didn't feel any slow loading on your blog.
They also offer FREE domain transfer along with FREE one year renewal of your domain name.
To get started on your blog, you need to buy hosting for your blog. Here I went through a step-by-step process with few screen captures, you can follow as below:
FIRST CLICK HERE TO START WITH BLUEHOST WITH $3.95 PER MONTH
After clicking the link, you will be redirected to the Bluehost website homepage (like the screenshot above).
Here, you will see a hosting offer including a free domain name, free Site Builders, 1-Click WordPress Installs and also 24/7 support.
Next, click on "Get Started Now".
You will then be sent to a page to select your pricing package. (Shown below)
There are three hosting plan with different pricing and offers, As you are a beginner, "basic" plan would be best for you. It's monthly cost is low as $3.95 per month for 3 years which is a very cheap price.
Note: If you will choose hosting plan for 1 year then you have to pay $7.95 per month. So plan with $3.95/month for 3 year would be best for you instead of choosing $7.95 per month.
After choosing your plan, you can get your FREE domain just by typing your domain you'd like to use. If your domain is available then click "next" and go for further process.
If you have already a domain name from other domain name providers, you can use "i have a domain name' option instead.
After choosing your domain name, fill your account details to register for hosting.
After filling in all of your account information, you will see the 'package information' section on the same screen. Here you can choose your account plan.
Before proceeding further, make sure to uncheck the pre-checked options that can cost you extra money and they are not necessary.
You can add these option later, if you feel the need for them.
On the same page, fill your card details to make payment and hit the "submit" button.
Congratulations! Your purchase with Bluehost is successfully completed and we can proceed further to get live with your blog.
Install WordPress on Your Hostspace
After getting the hosting and domain, it's time to install the WordPress on your hostspace. Installing WordPress on your server is an easy process you just have to follow these steps for the Installation:
Login to your hosting c-panel with your username and password.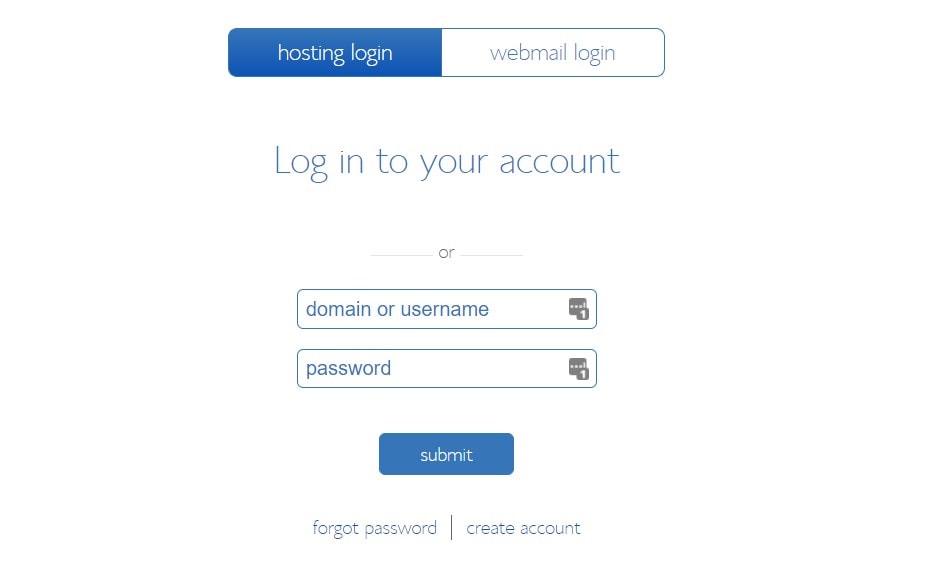 After login, find the "WordPress" icon or you can find it using the cPanel search bar.
Click on the "WordPress" icon
Write down the "Admin Username" and "Admin Password". Remember to change the default username as "admin" to any other complex to protect your site from hackers.
Click on "Install" and wait till the installation is over.
When the installation completed, they email you the "Login Administrative URL". Just save your details somewhere.
Congratulations you have successfully completed the WordPress installation.
STEP-3: Customize Your Blog
Now that you have started a blog but next thing is how do I set up and customize my blog?
Don't worry! In this step, I will guide you how you can make your WordPress blog live with proper customization.
To start with, you will need to login to your blog. Go to http://www.yourblog.com/wp-admin to bring up the login screen as seen in screenshot below (replace "yourblog.com" with your domain name). To get your login name and password, check your email that was sent by Bluehost while purchasing hosting and domain.
After login to your WordPress account, you will see the WordPress admin dashboard as seen in screenshot below:
1. Install A WordPress Theme And Set It Up
This is the first thing you want to do after login to your WordPress dashboard. An awesome theme can make your blog look beautiful and tells the standard of your blog. Having a good looking with unique design theme can increase the traffic to your website.
On the WordPress platform, there are tons of themes (Free and Paid) available for different niche purpose. If you don't want to spend money to buy a premium theme, you can select any of good looking free theme for your new WordPress website.
To change your WordPress blog's theme, Go to Dashboard >> Appearance>> Themes. Click on the Add theme button on the upper left corner of the new screen or you can type the name of any particular free theme in "Search themes bar" as seen in screenshot below.
It is good to use a free theme for a blog if you are a beginner but I always recommend you to go for a premium theme. Premium themes are build by professional web designers that include security, speed and more customizing features.
Some advantages of having premium WordPress themes are:
They are more SEO optimized that leads to increase rank of your website.
Their clean coding as in Genesis Framework make your site load fast
You get more customization options and features like shortcodes, drag and drop builders etc.
You get premium support with regular updates.
By using Premium Themes, you can customize your site in a way that look more brandable and unique.
If you are interested to buy a premium theme, you can visit the following websites.
Recommended Places To Buy WordPress Themes
There are number of sites available to purchase a premium theme that will help you to start a WordPress blog. But, I want to save your money on your blogging journey. From large number of available brandable themes, I would like to suggest you to choose the best value theme for your new WordPress blog.
So, if you want value for money you should definitely opt for MyThemeShop which are beautiful, feature-rich and affordable and trusted by 385625 users. You get 149 Beautiful Themes & Plugins for only $87 which is a great deal. Click the button below to get your copy of MyThemeShop and proceed further.
2. Set Up Your Permalink Structure
Setting up the permalink structure for your website is important because it describe how the URL structure appears in address bar of the web browser. The permalink structure is very helpful in terms of SEO So, it become necessary to optimize it in correct way.
Here are a few examples of WordPress permalink structures:
YourDomain.com/?p=193
YourDomain.com/2017/10/sample-post/
YourDomain.com/sample-post/
To change your website's permalink structure,  go to your Dashboard >> Settings >> permalink settings.
Recommended Permalink Structure:
I personally recommend you to use "Post name" permalink structure for your blog because it is easy to read, simple, SEO friendly and more understandable for what your content is about. It also help in user experience and be in the mind of your readers.
3. Installing Essential WordPress Plugins
If you want to start adding new plugins to your website, you will need to first install plugins.
To change your blog's theme,  go to your blog's dashboard >> Plugins >> Add new and start searching.
You will find over thousands of plugins to choose from. Once you have found the plugin you like, just click on "Install".
There will be 1000s of different plugins that can perform the same function. You can install any plugin but you shouldn't do. Using more plugins will eat up your server resources leading to slow site and downtime. Here is a list of best WordPress SEO plugins that you can refer and use.
Free WordPress Plugins
Jetpack (for traffic insights)
W3 Total Cache (Security and Speed)
Floating Social Bar (Content Sharing)
Akismet Anti-Spam (to protect your blog from spam)
Pretty Links (To create custom affiliate links)
TinyMCE Advanced (advanced visual editor)
Broken Link Checker
Premium WordPress Plugins
WP Rich Snippets (To add schema structured markup)
WP Rocket (For site's speed)
Thrive Leads (For Email marketing)
Thrive Architect (To create beautiful landing pages)
Wordfence Security (Freemium)
They are best WordPress plugins that every website needs in my view. As stated above, these plugins provide the basic features, improve the site SEO, optimize speed, harden security and help to market your content and products in a better way.
Let's see how to use these plugins to add some additional features to your blog.
How to add a Contact Form in WordPress
Adding a contact form is one of the important steps when you setup a blog. It gives your reader an easy way to get in touch with you. To add a contact form, you first need to install a contact form WordPress plugin. For this, we recommend using the WPForms plugin. It's free version let you create a simple contact form in easy way.
For this, go to Plugins >> Add New and type WPForms in the search bar. Now, install and activate the plugin. Once activated, head over to WPForms >> Add New to create a contact form.
Next, you can either select a simple contact form or starts from a blank form to add the required fields.
Once you are done with editing, click on "Save" button. You can easily add this form to any page simply by clicking 'Add Form' button on your editor screen.
You can upgrade WPForms to its premium version to get exceptional add-ons and range of other features to add forms on your website.
STEP-4: Write and Publish Your First Blog Post
To start writing your first blog post, click on the Posts >> Add New option in the left-hand side menu. You should see the Add New Post screen.
Enter the title of your post.
In the text editor section, you can write your article and do formatting with the options available there.
You can hit Publish button if you have completed your article otherwise you can save your article as a draft using "Save Draft" option to edit it later.
Congratulations! You have successfully write your first article on your WordPress blog.
STEP-5: Driving Initial Traffic To Your Blog
If you have created a blog, the next thing is 'getting more viewers for your blog'. Getting visitors is very difficult for a month. So, you want to announce that, you created a new blog. You want to share your blog through social medias, online forums, communities…etc. You want to promote your blog to make your blog successful. Feeding your Twitter and Facebook accounts with your blog updates will look like blog promotion.
Following are the methods to promote your blog:
Social Media: 

Creating an online presence is the most important thing for a professional blogger. You want to make a relationship between your visitors in social media like Facebook, Twitter, Pinterest, Instagram…etc. Sharing on social media is the best way to grab more page views to your blog and get popular very soon. 

Every time you publish a new blog post, make sure to share it on social media accounts (personal or business account).
Commenting on Other blogs in your niche: Commenting on other blogs in your niche is another best way to promote your blog. Add your blog link on that comment. You can get so many visitors and backlinks if you commented on a high PR blog. Commenting on the blogs that activated comment luv commenting platform is another way to get more traffic to your blog and increase your Page Rank. You can also install commentluv on your blog. It is a best commenting platform.
Guest posting: Guest posting is another best side of Blogging. It is the best way to get your blog noticed. It is also the best way to get people's attention to your blog. Find out the best blogs in your niche.Don't forget to attach your name and your link. The link must be to your Blog, Your best blog post, Your Free E-book …etc. Don't use your affiliate link. Because, the blog owner will reject your guest post. There are many plugins to know the webpage details like PR, Alexa…etc. for Google Chrome and Mozilla Firefox.
Build an Email List: An Email list is the important thing your website must have. An Email list helps you to increase your website traffic as well as the revenue. You can earn a huge amount of money by turning your visitors into subscribers and subscribers into customers. To build email list, you need to add the subscription forms (either as popup, widget or optin-form)
Participate in Forums: Forums are the great place you go offsite to promote your blog . There are many forums available on different niches you can go for. Similar to blog commenting, by participating in the conversions and adding value, you can draw attention to yourself and your blog. Other participants may follow your profile link, or if it's helpful, you can link directly to a blog post in one of your forum posts.
Answer Questions on Quora: Quora is a place to ask and answer questions. There are threads on pretty much everything, and you can use include links in your answers. You can search for topics that would be related to your blog and you can include a link back to your blog post as a reference while answering the questions. Many of these threads will get viewed for months or years to come.
Post on Reddit: There is a huge community on Reddit that loves to spend time on the Internet. Find subreddits related to your business or blog post topic and start participating. When you have a new blog post to promote, share it in a relevant subreddit. You can also start an interesting or helpful discussion to build a strong community.
Additional Resources To Drive Traffic To Blog
STEP-6: Make Money Blogging
Did you know that your blog can make millions??? Yeh..!!! You can generate your blog to a money making machine. The main part of Blogging is Monetization. You can change blogging as a career, if you have writing skills and confidence.
In this section, I'll explain how to make money from a blog for beginners. You can make money easily by doing the following methods.
Advertising: Advertising is the most popular method to earn money form a Blog / Website. Yes…!!! It is the very good method. You can make money if your blog gets a good traffic from Advertising. You can choose a 3rd party company for advertising or you can advertise directly on your Blog. The best way to make money is using pay per click advertisers like Google Adsense and its alternatives such as Infolinks, Chitika, Yahoo- Bing ads…etc.
Affiliate Marketing: Affiliate marketing is another best way to earn large money. This is a system which pays you if you help sell the products of another company. So, you will get money for referring the product to your friend or you can put their Ad Banners in your Blog. You will get commission for every sale through your blog. There are some high-paying affiliate programs to earn huge amount of commission such as Shareasale.
Content Writing: Content writing is best way to earn money if you have excellent writing skill. You can do this job without a blog. You can provide your service to different companies or blogs and start writing for them. You will get minimum $50 for an article.
Sponsored Reviews: You can write review for someone's product or services and you can get money for this review. These reviews are called 'Sponsored Reviews'. There are so many websites that working as a 3rd party between you and the product manufacturer. You can register on these websites. If, they approved your blog. You will get opportunities to write review about various products and services.
Sell text links on your blog: If you get good organic traffic on your blog, you can try text-link ads where you link a piece of text on your site to another page on a different site. Before using them on your blog, make sure you use the No-follow tag to prevent yourself from Google penalty.
Wrapping it up!
Congratulations! You Have Successfully Created A Money-Making Blog For You.
That's it! You're on your way to earning money as a blogger. If you still haven't signed up yet to start blogging, click this link to get start your blogging with Bluehost.
Any Doubts? Anything you want help with?
In this article step-by-step guide, I have covered all important things that you should know to start a blog and earn money from it.
 ➜ In case you have any queries or need help with creating a blog or anything you want to discuss related to starting a blog and make money from it, feel free to ask in the comments section.
 ➜ If you liked this article, please share it​ with those you think might benefit from it.​
I want to let you know that blogging is not an overnight success. Honestly, this will depend on you.
It will depend on how much time you can give your blog. Your hard work, consistency and patience are all you need to start earning from your blog. If it is not as much easy, it is not as much difficult too.
I made my first income 7 months after I started this blog and I believe that if you do it right, you may start to see a profit as soon as 5-6 months after starting your blog. Once you started making money, you will grow day by day.
So don't wait! Start your own blog and make money from it now.