Do you want to unlock the power of WordPress forms and Zapier? If you're reading this article, you know how powerful Zapier is. Zapier is an automation tool that allows you to connect thousands of apps and let you automate the business workflow. Now, there's a way, your audience can connect their contact forms to hundreds of additional web services.
So, how can you fully automate your WordPress site with Zapier? All you need is another powerful tool: WPForms.
WPForms has introduced Zapier addon by which you can connect your WordPress forms with 3,000+ apps. In this article, we'll show you how to integrate Zapier and WPForms to automate your work.
Why Integrate Zapier with WPForms?
When you collect your contact form data and send it to Zapier, there's no limit! By integrating Zapier with WPForms, you can easily connect your WordPress forms to any app that works with Zapier.
Using WPForms Zapier addon, you can send your WPForms data to:
Create a Lead in Salesforce
Add a customer in QuickBooks
Get a Slack Notification
Create invoices on FreshBooks
Add a Google Contact
Create a contact in HubSpot
Send text messages using Twilio
Make a task in Trello or Asana
How to integrate Zapier with WPForms
To get started, you'll need to install and activate the WPForms plugin on your WordPress website.
Please note that the Zapier add-on is available with the WPForms Pro Plan or higher. WPForms offer 50% off on all their premium plans. You can get WPForms Pro License at a discounted price by clicking here.
Once you've purchased the license key, go to WPForms >>Settings from your WordPress dashboard and verify the license key to get started.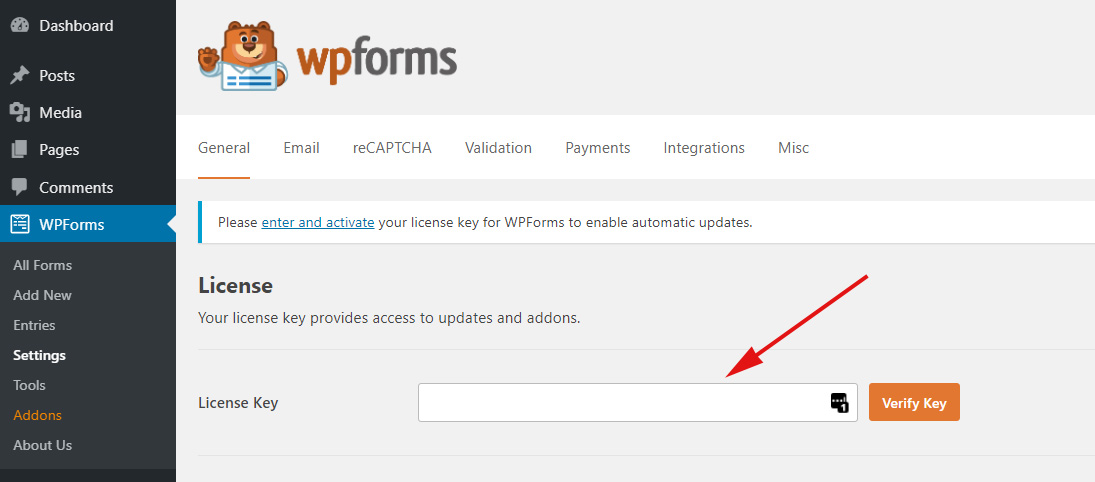 Next, go to WPForms>>Add-ons page and select the Zapier Addon. Just click on the "Install Addon" button and it will be automatically activated within a few seconds.
Once the addon is activated, we need to connect it to the Zapier account. For this, head over to WPForms >> Settings page and click on the Integrations tab.
Next, click on the Zapier option. Here you'll find the Zapier API key for your website.
Make sure to keep this tab open because you'll need this API key later.
In the next step, log in to your Zapier account. If you don't have an account, you can sign up and create an account for free.
In your Zapier dashboard, click on the "Make a Zap" button.
This will open the setup page for your new zap. You can name your zap in the upper left corner of the page.
Next, choose WPForms as the app. For ease, you can type WPForms in the search box.
Once you've selected WPForms, you'll need to choose an event. Since WPForms has only one trigger option, simply click on the Continue button to proceed.
Next, click on the Sign in to WPForms button to connect Zapier to WPForms on your website.
Now, you'll have to add your API key. For this, go back to the tab you've kept opened before. Then copy and paste your API key into Zapier account.
Next, enter the full URL (include the trailing slash) of your website in the popup and click the Yes, Continue button.
Now, Zapier will allow you to choose an account that you want to use for your new zap. Simply click on the dropdown menu to select your website and click on the Continue button.
In the next step, select the form that you want to use and click Continue.
The last step for integration is Find Data where you can pull in sample entries to test your connection. For this, click Test trigger to start.
If things are working properly, you should see your form entries populate and then click Continue.
Next, Zapier will ask you to Choose App & Event to which you'd like to send your form entry details. After choosing an app you'll need to follow further steps to pass form data to your choose service. The remaining steps depend on the type of service you integrate with.
Final Words
Now you may have a clear idea of how to connect your WordPress forms to thousands of additional web services through the WPForms Zapier addon. So, start using this amazing plugin now and automate your business flow.
Hope you found this tutorial helpful. If you have any queries or suggestions about this article, feel free to leave us comments below!
Also Read: