Email marketing is one of the reliable, fast, and cost-effective ways to build a meaningful relationship with your customers. Compared to other digital marketing channels, email is top-rated by marketers for or new customer acquisition, retaining existing customers, and increasing product sales.
There are plenty of products and services to help you with marketing and sales. So which should you choose?
In this article, I'll show you the two important tools i.e. ActiveCampaign and WPForms Elite which you can use to skyrocket sales through email marketing. Using these two services in combination, you can monitor your results, and boost your overall ROI in 2020 and beyond.
Now, let's focus on integrating WPForms and ActiveCampaign. Integrating WPForms and ActiveCampaign via Zapier allows you to create and embed high-converting forms anywhere on your website without touching a single line of code.
WPForms Elite and ActiveCampaign are both paid subscription services and integrating these two platforms can be worth the cost though for your online business.
Let's learn to find out why.
Why Integrate WPForms and ActiveCampaign?
The main reason is that it's a good idea to integrate ActiveCampaign with WPForms into one email marketing campaign is that it lets you build a longlasting relationship with your leads and customers.
It's also cheaper to get email marketing as an integrated add-on to WPForms rather than paying the significantly higher price for other email marketing services. WPForms allow you to connect ActiveCampaign with WordPress so you can easily create and embed your forms anywhere on your site.
There are several reasons why to integrate ActiveCampaign and WPForms together:
Drag and drop interface – You can create various types of forms simply by few clicks right from your WordPress dashboard.
Add a subscription checkbox – Use WPForms's conditional logic to allow users to automatically subscribe to your list when they submit any contact form.
Create unlimited signup forms without having to log into ActiveCampaign once integrated.
Avoid form abandonment – Save the data that is gathered from abandoning users and generate more leads and sales.
Let's proceed to the step-by-step guide below:
How to Use WPForms and ActiveCampaign Together
To get started, you'll need to install and activate the WPForms plugin on your WordPress website.
Please note that the ActiveCampaign add-on is available with the WPForms Elite Plan. WPForms offer 50% off on all their premium plans. You can get WPForms Elite License at a discounted price by clicking here.
Once you've purchased the license key, go to WPForms >>Settings from your WordPress dashboard and verify the license key to get started.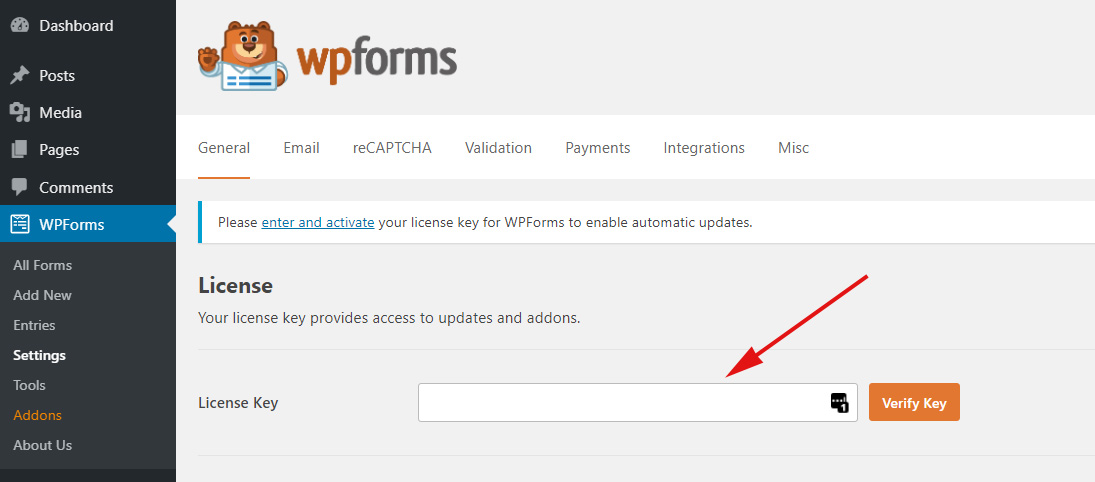 Next, go to WPForms>>Add-ons page and select the Zapier Addon. Just click on the "Install Addon" button and it will be automatically activated within a few seconds.
Now you're ready to connect WPForms to your ActiveCampaign account.
Once the Zapier addon is activated, we need to create a new form. For this, head over to WPForms >> Add new page. Here, I'm choosing the Newsletter Signup Form template for convenience.
Now, login to your Zapier account and click on the Make a Zap button in the upper right corner. If you do not have an account yet, then you can sign up and create an account for free.
You'll see a setup page for your new zap. You can name your zap anything you like.
On this page, you will find many apps so search for WPForms and click on this app for launch. Once you've selected WPForms, Zapier will display your trigger options.
Now, select the Newsletter Signup Form you just created, when you're in the Edit Options step. You must have at least one test entry on your form before fetching existing entries.
You'll see a successful confirmation message.
In the next step, you'll need to choose the ActiveCampaign as your action app.
For this, find the ActiveCampaign app by typing in the search bar and choose it.
Now, you'll be asked to select an ActiveCampaign action. Here, we'll choose Create/Update Contact option as our goal is to add new subscribers automatically.
In the next step, you'll need to connect your ActiveCampaign account to Zapier. For this, you'll have to enter your API key and URL, which can be found in the My Settings section of your ActiveCampaign account.
Now, Paste your API key and API URL into the appropriate fields:
Once verifying the API URL and key, you'll be asked to setup ActiveCampaign contact. Here, you'll have to connect each newsletter form field of WPForms to the appropriate ActiveCampaign field.
To be sure the integration is working, though, we recommend clicking the Test button.
To test the ActiveCampaign data, go back to your ActiveCampaign account and click the Contacts tab. You can see the imported contacts in your account if integration is working.
In the final step, you'll have to turn on your Zap so you can automatically send contacts to your ActiveCampaign account whenever visitors submit the form on your WordPress website.
Congratulations! you've successfully integrated ActiveCampaign with WPForms on your WordPress site. Now, when a user fills out your form, they will be added as a new contact in your ActiveCampaign database.
Final Words
After reading this article, you get an idea about how to create high-converting forms by integrating WPForms and ActiveCampaign on your WordPress website. The free version of the WPForms plugin is good but in order to access the Zapier and other addon features, I recommend you upgrade to the Elite Version.
If you have any queries or suggestions about this tutorial, do leave a comment at the end of this article.
Recommended tutorials: