Are you getting tired of form abandonment on your website? This is one of the serious issues you need to resolve to gain more sales and leads.
Form abandonment occurs when a user who starts filling a form on your website and leave the page incomplete or they quit before submitting it.
Many of us bloggers and marketers who use a form to collect leads or sales don't even know it's happening. This can be a serious issue which results in losing your business as well as money.
Wouldn't it be great if you could save or recover the filled information from your abandoning users?
Just think about all the leads and sales that can be saved!
In this article, I'm going to tell you how you can save all lost leads and sales in four simple steps.
Let's discuss them.
How To Save Lost Leads And Sales – Step by Step
To save lost filled information from users due to form abandonment, I will tell you about one of the most powerful contact form plugins that is WPForms.
This WordPress plugin allows you to create and add different types of forms in a simple and efficient manner. Not only that, its Form Abandonment Addon will help you to save the data that is gathered from abandoning users. Which makes it possible to follow-up with people who ARE interested and just didn't complete the process.
This addon from WPForms can help you by saving all the incomplete entries in two ways:
When the user moves their mouse outside of the browser's viewport
When the user clicks on a link on the page
It is a cost-effective solution by WPForms generate more leads and sales with your existing traffic.
So if you're interested, let's learn how to easily save lost leads and money on your WordPress website with the help of WPForms plugin.
Step 1: Install and Activate the Plugin & Addon
To get started, you'll need to install WPForms plugin on your WordPress website.
Once WPForms is installed, you need to have a Pro license of WPForms to get access to Form Abandonment addon. You can get WPForms Pro License at a discounted price by clicking here.
Once you've purchased the license key, just head to WPForms >>Settings from your WordPress dashboard and verify the license key to get started.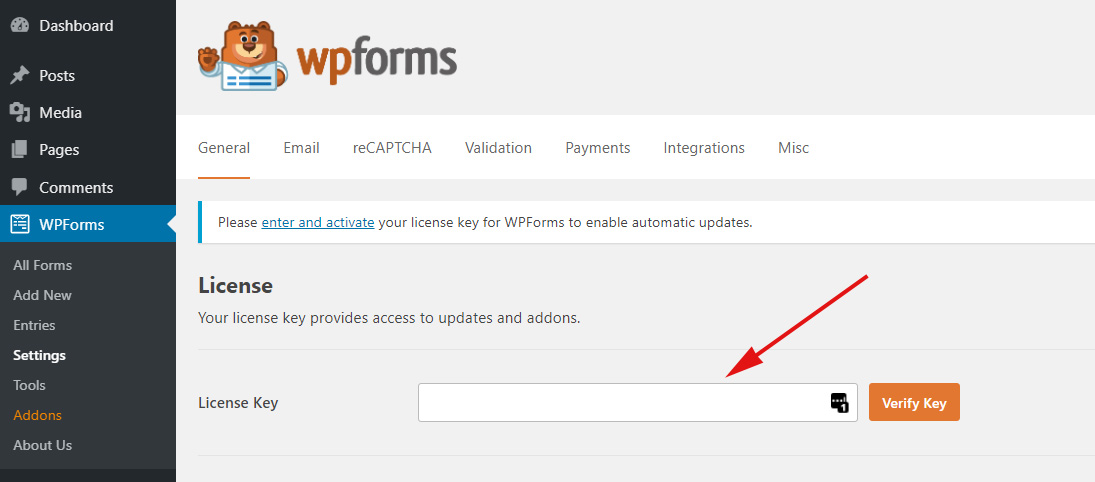 Next, go to WPForms>>Add-ons page and select the Form Abandonment addon.
Just click on the "Install Addon" button and it will be automatically activated within a few seconds. Now, you'll get to know how many people didn't complete the forms.
Step 2: Create a form
Once you activate the Form Abandonment addon, it's time to create a form on your site. WPForms lets you create various types of forms such as:
Simple contact forms
Conversational forms
Signature forms
Email opt-in forms
Newsletter signup forms
Job application forms
Event registration forms
Survey Forms
Free Quote forms and more
Check the other relevant tutorials below:
Here, I'm going to create a simple contact form.
Firstly, go to WPForms >> Add New in your WordPress dashboard area and select "Simple Contact Form" template.
Clicking the Simple Contact Form box will bring you to the next window:
Here, you can simply drag and drop any form fields according to the data you want to collect from your users.
Once you have added the required fields, click on the "Save" button at top right.
Step 3: Enable the form abandonment
After you have successfully created a form, it's time to activate the form abandonment feature to save lost leads.
For this, head over to the Settings>>Form Abandonment on the left menu. Now, just check the "Enable form abandonment lead capture" box.
Here, you'll see two lead capturing options i.e.
Save only if email address or phone number is provided
Always save abandoned entries
Select any of these options to check which is perfect for your needs. Also, you can check the box "Prevent duplicate abandon entries" if you want to save only the most recent abandoned entry from the user.
Once you have done, click on the "Save" button on the top corner of the settings page.
Step 4: Add the form to your Posts or Pages
Once you have created your form, you need to add it to your WordPress post or pages.
Here, I'm adding it to a new page.
To do this, go to Page >>Add New to create a new page.
Now, name the page as Contact Form or anything you'd like to write about.
If you using the Gutenberg editor, click Add Block (+) icon and type WPForms in the search bar and select it. Or click on Add forms and select contact form in case of the Classic editor.
Next, select a form from the dropdown box that you want to add to your page.
Now, WPForms will save important data automatically from a user who leaves this page before completing it.
How to find abandoned form entries?
This is an important thing to know from where you can see all the abandoned form entries.
For this, go to WPForms >> Entries.
Here, you can see the list of all the abandoned entries under the Status column. Just select the form you want to see entries for.
How to Send Abandoned Form Emails?
After collecting all the data of your lost leads, you can reach them out by sending automatic emails. It is a great way to let them know about new deals and discounts and that will help you earn money.
There are two ways to send emails to your abandonment users.
1. Set an automatic email that will be sent to users when they leave the form incomplete.
For this, go to Settings >> Notifications on the WPForms form builder and check the box "Enable for abandoned forms entries".
2. Copy their email address manually and send them a message.
Final Words
After reading this article, now you may have a clear idea of how to save lost leads and sales using WPForm plugin. So, don't lose a single customer because of form abandonment. Start using this amazing plugin now and turn your visitors into your loyal customers.
If you have any questions or suggestions about this tutorial, let us know in the comment section below.