Do you want to use Sendinblue in your WordPress contact forms to boost your email marketing?
Sendinblue is a great tool to manage your email marketing. It offers comprehensive features including SMS, landing pages, Facebook ads, CRM, and for sending trigger-based and transactional emails.
If you're wondering how to use Sendinblue for your email marketing needs, then you don't need to worry. WPForms has made it easy for you by offering their Sendinblue addon. With the Sendinblue addon, you can easily subscribe, unsubscribe, delete users to lists, and track events.
In this article, we will show you a step-by-step process of how to use Sendinblue with WPForms to grow your email list.
How to Use Sendinblue and WPForms Together
To get started, you'll need to install and activate the WPForms plugin on your WordPress website.
Please note that you need to buy a Pro license of WPForms to get access to the Sendinblue addon. You can get WPForms Pro License at a discounted price by clicking here.
Once you've purchased the license key, just head to WPForms >>Settings from your WordPress dashboard and verify the license key to get started.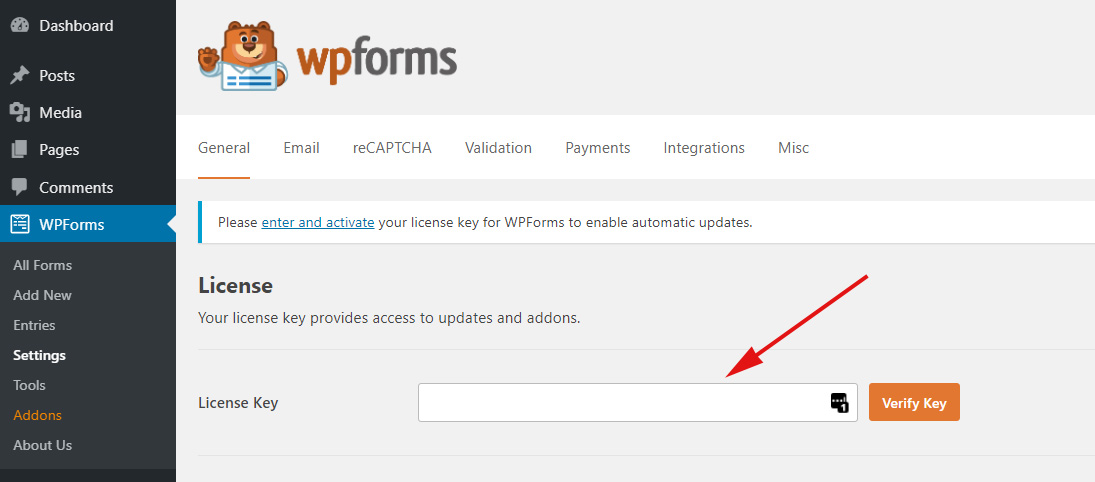 Next, go to WPForms>>Add-ons page and select the Sendinblue Addon. Just click on the "Install Addon" button and it will be automatically activated within a few seconds.
Once the addon is activated, we need to connect it to the Sendinblue account. For this, head over to WPForms >> Settings page and click on the Integrations tab.
Next, click on the Add New Account button under the Sendinblue option to add your account information.
Now, you'll need to fill out the required fields i.e. Sendinblue API key and account nickname to add your new provider account.
To find your API key, you'll need to log into your Sendinblue account. Once logged into your account, click on your name at the top right, then on SMTP & API.
Under the API keys tab, you will find your API key.
Now, copy this key and paste it into the appropriate fields of your WPForms settings page. Also, add a nickname to the Sendinblue Account Nickname field.
Once you've filled required details, click the Connect to Sendinblue button.
When it's done, you'll see the Connected green button next to your Sendinblue integration.
Once the Sendinblue account is activated, you need to create a new form or you can edit your existing form.
In the form builder, head over to Marketing >> Sendinblue and click on the Add New Connection button.
Enter a nickname you like and click the OK button.
Next, fill in all the required fields mentioned below:
Select Account – select the account you'd like to use if you have more than one Sendinblue account connected to WPForms.
Action to Perform – choose the action you'd like to happen when users submit the form.
Email – select the WPForms field that will contain the subscriber email address.
List – Select the Sendinblue email list where you'd like to add the subscriber.
Once you've configured all the settings, click on the 'Save' button at the top of the screen.
Now you can go ahead and add your form to your website.
Final Words
Now you may have a clear idea of how to use Sendinblue with WPForms to grow your email list. So, start using this amazing plugin now and boost your conversions and email list fast.
Hope you found this tutorial helpful. If you have any queries or suggestions about this article, feel free to leave us comments below!
You may like to read: