Do you want to create a multi-page form on your WordPress website? Multi-page forms are a great way to improve user experience and keep your visitors engaged with your site.
In this guide, I'll show you a step-by-step guide on how to create a multi-page form that helps you increase engagement.
Well, there are a lot of multiple-step forms plugins are available in the market, but not all of them are easy to use. For this WPForms is a powerful and beginner-friendly plugin that helps you create different types of form on your WordPress website.
WPForms also allows you to easily create a multi-step form to increase your conversion rate and decreases the rate of form abandonment.
So, without further ado, let's learn how to create a multi-page form in WordPress.
How to Create a Multi-Page Form in WordPress
Step 1: Install and Activate the Plugin & Addon
Firstly, you need to install and activate the WPForms plugin on your WordPress website.
Please note that the free version of the WPForms plugin doesn't come with the Page break functionalities so you'll need to buy a Pro license of WPForms to get access to this feature. You can get WPForms Pro License at a discounted price by clicking here.
Once you've purchased the license key, just head to WPForms >>Settings from your WordPress dashboard and verify the license key to get started.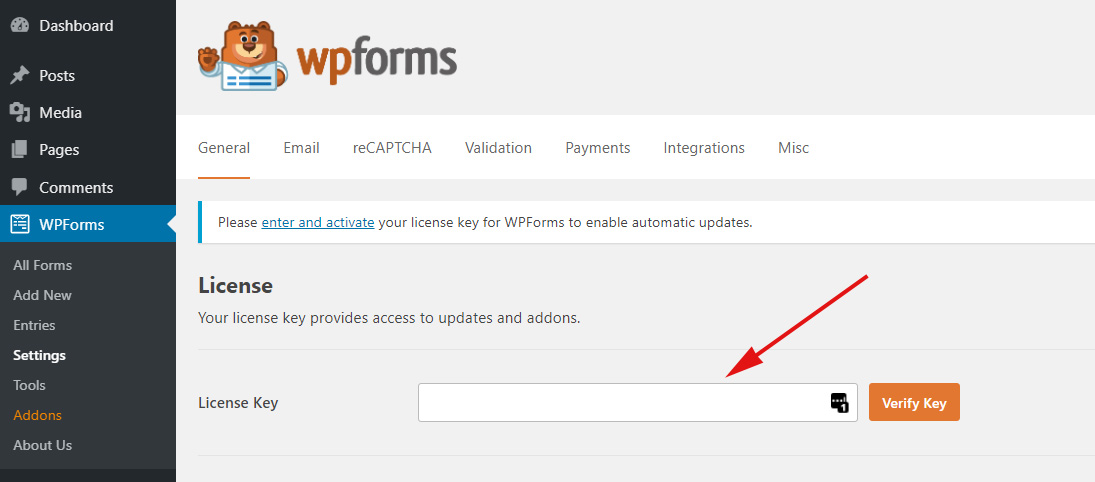 Step 2: Create a New Form
After verifying your license key, you're now ready to create your first multi-step form in WordPress. For this, head over to WPForms >> Add a new page.
Now, from the list of pre-made templates, select the Simple Contact Form template and name it.
You'll see a donation form like this:
You can modify this form simply by dragging and dropping fields from the left-side panel.
You can also select any other template based on your form requirements such as Servey form, Job application form, Poll form, and more.
Step 3: Split Your Form to Multi-Page
After customizing the form fields for your form, you're ready to add a new page to your form.
To do this, click on the Pagebreak field from the left-hand panel under the Fancy Fields section and place it in your form where you want to split it.
This will add a pagebreak marker to the bottom and a "Next" button, to your form. You'll also see a first-page marker at the top of the page. Click on it and edit your multi-page form properties.
On the left-hand side, you'll see an option of "Progress Indicator" having three different breadcrumb style indicator bars such as connectors, circles, a progress bar, or none at all. For this guide, we'll be using the Connectors progress bar type.
To customize, you can also choose the color of your page indicator and title for the first page.
Next, click on the Page Break section to edit its properties. Here, you can customize the title of the next page and also edit the "Next" button that will take visitors to the next page on your form.
You can continue adding form fields after the pagebreak if necessary. Once you are done "Save" button on the top right corner.
Now, you're are ready to add this form to your website.
Step 4: Add Your Multi-Page Form to Your Website
Now you have created the multi-page form, so the final step is to add to your website. You can add it anywhere on your site like pages, posts, or sidebar.
For this, go to Page >>Add New to create a new page and then click on the Add Form button to select the form you just created.
Now, hit the publish button so your form will appear on your website.
Isn't so simple. 🙂
Final Words
After reading this article, now you may have a clear idea of how to create multi-page forms using the WPForm plugin. If you have any questions or suggestions about this tutorial, let us know in the comment section below.
Also read: