Do you want to know how to connect stripe with your payment form in WordPress? By default, WordPress doesn't offer a Stripe payment option to add in your forms, but there are many plugins that can help you to do it.
In this article, I'll show you the entire process of how to connect Stripe with your payment forms.
There are many tools and plugins available to create payment forms on your website, but the plugin I'm going to mention here is especially for those who want to connect Stripe for accepting one-time payments as well as recurring payments.
Stripe is one of the most popular payment processors and widely used among digital entrepreneurs. Whereas, WPForms is one of the best contact form plugins that allow you to create a different type of forms with an easy to use interface. By putting the power of these two together, you can build a powerful WordPress business website or blog.
Both of them together can help you boost the conversion rate and build trust among your loyal customers.
Here's how to connect Stripe with your payment forms on WordPress.
Step 1: Install and Activate the Plugin & Addon
Firstly, you need to install and activate the WPForms plugin on your WordPress website.
Please note that you need to buy a Pro license of WPForms to get access to Stripe addon. You can get WPForms Pro License at a discounted price by clicking here.
Once you've purchased the license key, just head to WPForms >>Settings from your WordPress dashboard and verify the license key to get started.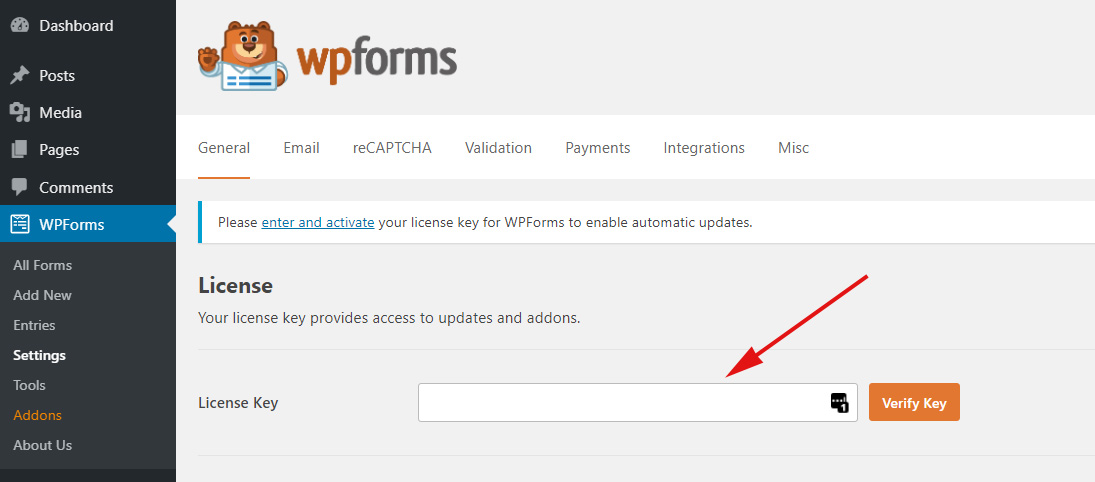 Next, go to WPForms>>Add-ons page and select the Stripe addon.
Just click on the "Install Addon" button and it will be automatically activated within a few seconds.
Step 2: Connect Stripe to Your WordPress Website
Once the Stripe addon is activated, we need to connect Stripe to our website. For this, head over to WPForms >> Settings page and click on the Payment tab.
You can also adjust the currency from the Currency dropdown before proceeding.
Next, you'll need to click on the button "Connect with Stripe" to proceed further.
Now, you'll have to authorize the connection between your forms and Stripe. If your Stripe account is not activated, then you'll need to fill all the required details to process payments on Stripe.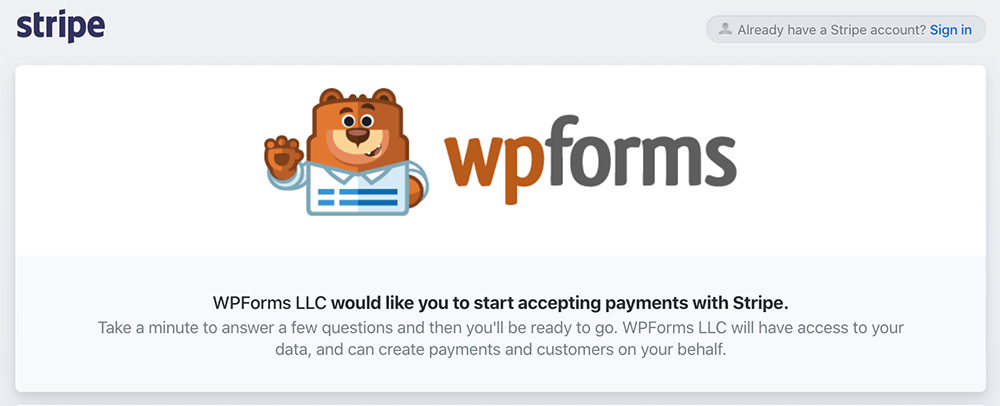 After authorizing the account, you'll be redirected back to your site's admin area.
Step 3: Add Stripe to Your Payment Forms
Once you've connected Stripe to your WordPress website, it's time to add it to your payment forms.
For this, you'll need to create a new form or edit an existing form.
Please note that you'll need to add at least two fields in your form in order to work with Stripe:
An item field (Single Item, Multiple Items, Checkbox Items, or Dropdown Items)
Stripe Credit Card field
Once you have successfully created a form, it's time to configure the payment settings. To do this, go to Payments » Stripe to enable payments for this form.
Next, click on the Enable Stripe payments checkbox option and give a description of the payment. Also, select Email as the Stripe Payment Receipt to send an email receipt to your users.
You can also enable "recurring subscription payments" if you want to accept recurring payment from people.
Once you are done, you can click on the Save button at the top right corner and exit the form builder.
Note: Before adding your payment form to your website, make sure to test it to ensure everything is working correctly.
Final Words
After reading this article, we hope you get an idea of how to connect Stripe with your payment forms on WordPress. If you are ready to accept credit card payments, make sure to check out our article on how to save lost leads and sales so you can boost your sales and conversions to maintain success.
So what are you waiting for? Start using this amazing plugin now and grow your online business.
If you like this article or if you have any questions about this tutorial, let us know in the comment section below.