Are you looking to collect PayPal payments on your WordPress website? Don't worry. This can be quickly done using the right plugin. In this article, I'll show you a step-by-step process of how to integrate PayPal into your payment forms.
PayPal is the faster, secure, and most widely used for online purchase. We know collecting payments can be hard but using WPForms to add PayPal method to your website makes the process easier.
WPForms offers PayPal Standard addon in its Premium version that allows you to easily integrate your WordPress site with PayPal. Moreover, you can choose their pre-built billing order form or donation form templates to make the setup process easy.
WPForms not only allow you to collect the payments but also help you boost the conversion rate and build trust among your loyal customers.
Let's learn how to connect PayPal with your payment forms on WordPress.
Step 1: Install and Activate the Plugin & Addon
Firstly, you need to install and activate the WPForms plugin on your WordPress website.
Please note that the free version of the WPForms plugin doesn't come with the Paypal payment functionalities so you'll need to buy a Pro license of WPForms to get access to PayPal Standard addon. You can get WPForms Pro License at a discounted price by clicking here.
Once you've purchased the license key, just head to WPForms >>Settings from your WordPress dashboard and verify the license key to get started.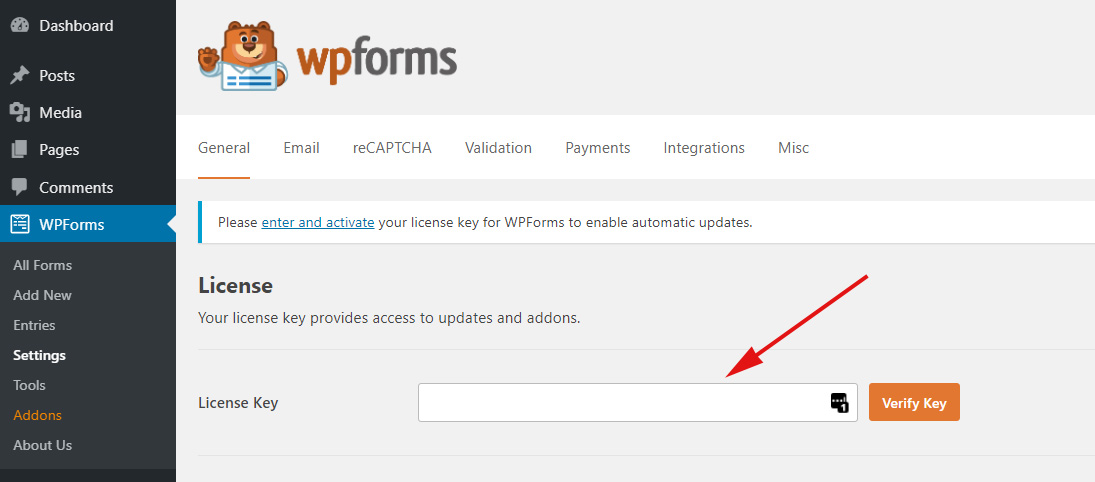 Next, go to WPForms>>Add-ons on the left bar of your WordPress dashboard. Select the PayPal Standard addon and click on the "Install Addon" button.
Step 2: Create a Billing Form
Once the PayPal addon is activated, we need to create a new form. For this, head over to WPForms >> Add a new page. For example, I'll create a billing/order form to accept payment on my WordPress website.
Clicking the Billing/Order Form box will bring you to the next window:
WPForms provides a form builder with a billing/order form template where you can edit any form field. You can also add new fields by simply drag and drop from the left column.
Step 3: Add Paypal Payment to Your form
Once the form is created, it's time to connect it to PayPal.
For this, head over to Payments » PayPal Standard to enable payments for this form and click on the Enable PayPal Standard payments checkbox option.
Apart from enabling PayPal payment, here're the additional settings to fill out:
Enter your PayPal email address.
Select Production mode.
Choose Product and Services.
And adjust the remaining settings as you need.
After configuring all settings, click Save and proceed further.
Step 4: Add Form to Your Website
Now you have created the billing form, so the final step is to add to your website. You can add it anywhere on your site like pages, posts, or sidebar.
For this, go to Page >>Add New to create a new page.
Now, name the page as Billing Form or anything you'd like to write about.
If you using the Gutenberg editor, click Add Block (+) icon and type WPForms in the search bar and select it. Or click on Add forms and select contact form in case of the Classic editor.
Your form is now embedded on the page. Now, hit the publish button so your form will appear on your website and you can start collecting PayPal payments on your WordPress website.
Isn't so simple. 🙂
Final Words
After reading this article, now you may have a clear idea of how to add PayPal payments using the WPForms plugin without writing a single line of code. So, start using this amazing plugin now and grow your website's revenue and sales. Also learn, How to connect Stripe with your payment form in 3 easy steps.
If you have any questions or suggestions about this tutorial, let us know in the comment section below.