Are you looking to add hCaptcha to your WordPress forms to prevent from getting spam submissions? Most of the website owners face the issue of spam or other types of abusive traffic.
One of the best ways of combating it is using hCaptcha, which will help you to determine whether a website visitor is human or not. hCaptcha is a free and privacy-conscious alternative to Google's reCaptcha that helps prevent spam submission in your WordPress forms.
In this article, we'll discuss how to set up hCaptcha using WPForms to create spam-free contact forms.
How to Set Up hCaptcha to Your Contact Forms
Before proceeding to the detailed steps, it's important to understand what is hCAPTCHA and why it is important for our website.
hCaptcha is a free and privacy-focused reCAPTCHA alternative that protects your website forms from bots, spam, and other types of automated abuse. Similar to reCAPTCHA, hCaptcha currently offers a checkbox style CAPTCHA for your forms, where users must check the box to prove that they're not a bot.
Sometimes, hCaptcha may also ask users to answer image-based questions to confirm that they're human.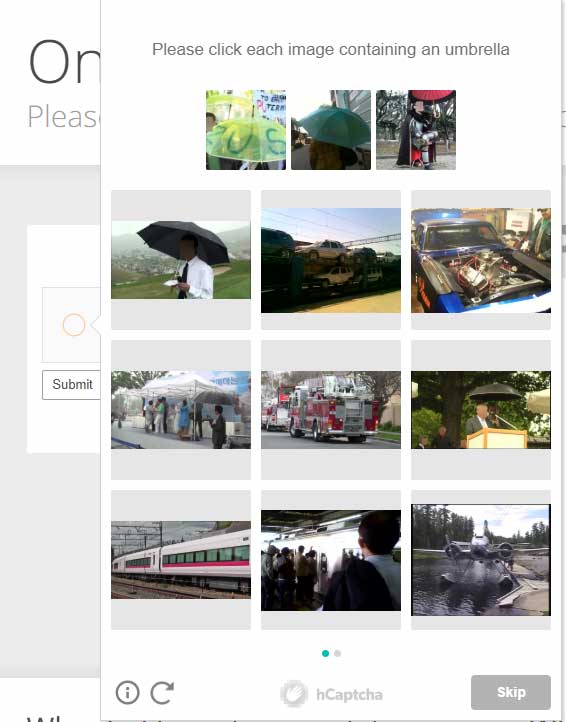 With this tool, the users have to just click on the matched images instead of entering text and the tool identifies that this is not an automated spammy bot.
Now, let's learn how to setup hCaptcha to your contact forms:
Step 1: Generate hCaptcha Keys
To get started, you'll need to install and activate the WPForms plugin on your WordPress website.
Next, head over to WPForms >> Settings and click on the CAPTCHA tab.
Next, you'll need to generate site keys in your hCaptcha account to connect to WPForms.
For this, open the hCaptcha site in a new tab and login into your account. If you're a new user on hCaptcha, you can easily sign up by filling in the required details.
Once, you've logged into hCaptcha, click the New Site button at the top right corner to get started.
Now, you'll need to add the name of your website under the Add New Sitekey section.
Under the General Information, type in your site domain and click Add new domain.
After scrolling below, you'll need to choose the difficulty of the CAPTCHA.
This setting will allow you to choose the difficulty level of hCaptcha within your forms. If you're not sure what to choose, we recommend you start with an easy or moderate setting, which means your users will be presented with an easy challenge to solve.
In the next section, you can optionally choose up to 3 different interests for what kind of CAPTCHAs that your visitors will see.
If you don't want to use this section, just skip it and proceed further.
Once, you've configured settings, click the Save button.
Step 2: Get Your hCaptcha Keys
In this step, you'll have to get the site key from hCaptcha and paste them into WPForms.
Under the Active Sites section, you'll see sites you've added. Click the Settings button to view and copy the entire site key.
Now, copy this key and paste it into your WPForms settings.
Next, to find the Secret Key, click on the Settings tab of your captcha account.
Copy this secret key and paste it into WPForms.
Now that you're done, click Save to save your hCaptcha keys.
Step 3: Add hCaptcha to Your Form
Now, you've added your site keys, now it's time to add hCaptcha to your WordPress form. You can either create a new form or edit an existing form. Under the Standard Fields in the form editor, click on the hCaptcha field.
You can look for the hCaptcha badge in the upper right corner of your form builder to confirm whether it's enabled or not.
Click on the Save button to store your changes.
Now, you've successfully set up hCaptcha to your WordPress forms using WPForms.
Isn't so simple. 🙂
Final Words
After reading this article, now you may have a clear idea of how to add hCaptcha to your contact forms using the WPForm plugin. So, start using this amazing plugin now and protect your website's contact form submissions from automated spambots. Also learn, how to fix email-related issues using WPForms.
If you have any questions or suggestions about this tutorial, let us know in the comment section below.