Astra is one of the best WordPress themes that come with an extremely lightning-fast design and a lot of custom layouts. It's the best WordPress theme that works well with Elementor and popular page builder plugins. Astra Pro is now available at 30% off i.e. at just $41, that includes additional modules and starter templates.
It is a highly effective theme that comes with the most advanced features like the White Label feature.
It's a freemium theme and the premium version of the theme is neither too high nor too low.
Astra is an extremely easy-to-use theme and all features are accessible on a single page of WordPress customizer.
They offer the fastest customer support via through ticketing and email.
If you're planning to purchase Astra Pro theme but want to read a review before proceeding to check out, then this detailed Astra theme review is definitely written for you.
Among the beautiful WordPress themes, Astra is one of the most beautiful themes that need a special mention. It is highly used for blogs, portfolios, online shops, businesses, and several others. 
Astra is now active on 900,000+ sites and has more than 3,850 5-star ratings on WordPress.org. It also offers amazing support for the page builder with the WordPress plugins that will allow you to customize the entire website. It will also give you the ability to import dozens of supreme quality website designs and transform the website at the clicks at the bottom. 
If you are looking to extend the functionality of the website, you can look for the pro version. Currently, I'm using it too on two of my niche websites and it turns out to be a great decision. Now, if someone would ask me which theme I'd recommend anyone for their website, then I'd 100% recommend Astra.
But Why?
In this post, I have written a detailed review of the Astra WordPress theme that will help you to decide on how it will be useful for you.
So without further ado, let's proceed to the details.
Astra is a freemium theme for WordPress developed by Brainstorm Force team who also offers some well-known plugins like Ultimate Addons, Schema Pro, Convert Pro, and more. The theme incorporates speed, style, and customizable options based on the preference of the users. It is a great tool for business suits, blogs, WooCommerce storefront, restaurant, portfolios, biographies, and several others. 
This theme also contains websites readily available with some pre-built pages. So, it will save a huge amount of time when you are working on the website. 
Further, demo designs can be customized easily without using any code and some other customization options are incredible. The speed of the theme is considered to be superior to several other themes available in the market. 
Here're some important factors you can expect when you choose Astra:
Performance – Astra is one of the fast loading WordPress themes that weighs under "50 KB". It's built from the ground to be super lightweight, which means your site is going to load fast.
Compatible with page builders – Astra Pro specially built to pair well with popular page builder plugins like Elementor, Thrive Architect, Beaver, etc.
Pre-built demo sites – Astra Pro offers a huge collection of pre-built starter templates that help you quickly get started.
Easy to customize – Astra lets you customize your website using the real-time WordPress customizer with no coding knowledge required.
Comparing Astra Pro with some other themes
When comparing the speed offered by Astra Pro with the others, Astra will offer unbelievably great speed for the users.
To check Astra's performance, I set up a demo website and ran a performance test for Astra Pro and its competitor theme Generatepress Premium.
The first screenshot is of Astra Pro and the second one is of demo site using GeneratePress.
The result proved that Astra Pro took only 1.16 s as the loading time and Generatepress took around 1.92 s to load on Pingdom.
These results are quite impressive because both of them are competitive WordPress themes. I've tested the blog's homepage which was designed using Elementor.
However, this is not a very realistic test as it was done on a demo blog. On a real blog, you'll have a lot of content.
In my opinion, both themes have a super-fast loading speed. However, when you combine Astra Pro's flexibility with its performance, you'll love considering it for use on your website. 
Astra offers great customizable options
Another important aspect to mention Astra is the tons of customizable options. You don't need to move back and forth to search for different options and this will help in modifying several aspects of the theme.
In all the areas like layout, colors/background, buttons, background images, menu. Topography, etc the customization options will be arranged and you can choose them as per your needs.
Because all of these settings are available in the real-time WordPress Customizer, so just a few clicks will be enough for changing the settings and customizing as per your needs.
Import Pre-Built Starter Templates
Many people don't have time to customize their website from scratch. To help you out, Astra offers a huge library of pre-built starter templates that you can import with just a few clicks.
Before importing a template, Astra gives you the option to choose which page builder you'd like to customize the demo content. This means you can customize the demo content simply by using a drag-and-drop editor.
Most of Astra's templates use the Elementor page builder. However, you can choose between:
Elementor
Beaver Builder
Gutenberg
Brizy
In total, Astra has 250+ pre-built starter templates, all of them are broken into categories like business, blog, eCommerce and other.
Page Builder Integrations
Astra theme is built up to perfectly compatible with popular WordPress page builder plugins like Elementor, Divi, Thrive Architect, Beaver Builder, and many others.
You'll see Astra settings whenever you create a new post or page. These settings give you 100% control over the canvas for your page builder.
For each post and page, you can:
Choose to disable your sidebar so that you can take over everything when designing landing pages.
 Disable specific parts of your post like title, featured image, header, footer bar, etc.
As you can see, Astra gives you full page-level controls, that help you create attractive full-width pages using page builder plugins such as Elementor, Beaver Builder, Brizy, etc.
As I earlier mentioned, the Astra theme is available for free at WordPress.org. Then, there's an option of purchasing the Astra Pro version at 30% off i.e. at just $41 that adds a bunch of new features and customizing options.
So…which one is right for you?
Well, you do not need the Astra Pro version if you want to build a great looking site. With their free starter templates and WordPress page builder, you can create an awesome page.
The free version comes with limited features like header/footer options, starter templates, Elementor integration, WooCommerce Integration, and much more. So, for anyone who wants to set up a blogging starter site, then you don't need to upgrade to Astra Pro.
But there are still some good reasons you might want to purchase Astra Pro. The pro version of Astra comes with more advanced features and functionalities like blog layouts, page headers, typography, color options, custom layouts, white label, and more style options.
Some best features of the premium version of the Astra are:
More imports ready demo sites
More advanced options for customizing your header such as mobile, sticky, and mega menu
Additional typography and color control options
More layout options like excerpt content, post pagination, masonry, etc.
Integration with powerful plugins like LearnDash and LifterLMS
You can check the detailed comparison of the Astra Free and Pro version on this page.
Support is another highly expected factor when you are updating the theme. When it comes to Astra pro, the team will never fail to offer supper at the time you are seeking for it. If you have any queries, you can just mail them or open the tickets in the support section of their site to get it cleared.
If you have any issues like the installation process, customizations, just contact them and they will reach you shortly to clear your doubts.
As far as pricing is concerned, Astra is free to download at WordPress.org. If you're planning to purchase Astra Pro to get more advanced features, then their pricing plans are:
Astra Pro – the yearly cost of it would be $59 or you can also pay $249 to own it for a lifetime.
Mini Agency Bundle – the yearly cost of it would be $169 or $499 for a lifetime.
Agency Bundle – it cost $249/year or you can opt for a lifetime plan for $699.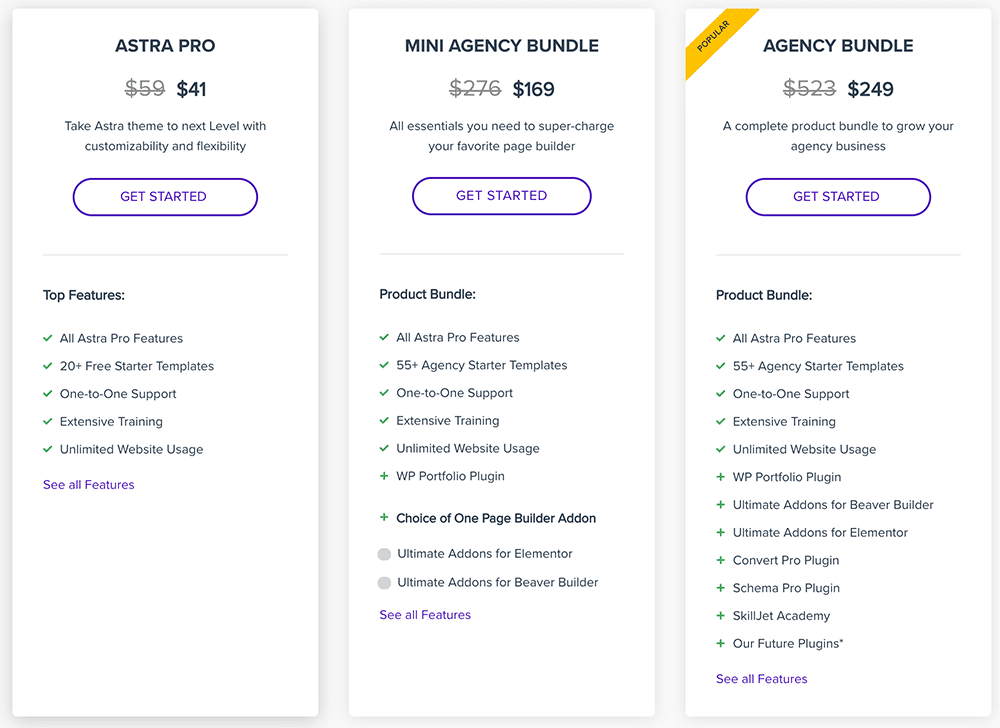 For all plans, Astra offer a 100% money back guarantee of 14-days, just in case if you decide Astra is not just want to need.
Is Astra working with Elementor? 
Yes! Astra works with all popular page builder plugins like Elementor, Beaver Builder, Gutenberg, Thrive Architect, Brizy, and many more.
Can I get a refund? 
Yes, they offer a 14-days money-back guarantee if you're not satisfied with their products.
How many new websites can it build with the same Astra theme plan? 
Astra theme provides a license key for unlimited website usage after purchasing any of their premium plans.
Does the Astra WordPress theme come with a white label feature? 
Yes of course! The Artra pro works with the white label features as well which will help you with custom branding of your website. 
Is the Astra theme compatible with WooCommerce? 
Yes! Astra theme integrates well with WooCommerce and it automatically adapts to the rest of the Astra powered website and it will take some colors and fonts that are out of the box from several other themes from the customizer settings. 
Does Astra theme work with WordPress.com blogs? 
No, the Astra theme works only for WordPress.org websites.
What if I don't renew my license after one year? 
The website you've built using Astra will continue to work after one year of purchase. However, you'll not be able to reveive new updates and support if you don't renew your license.
Overall, Astra is one of the best multipurpose WordPress themes available in the market as per today. When you are considering the factors of SEO or speed, Astra will never file in any aspect. Most importantly the free version itself is more useful and when you are looking for the features of the pro version, it is available at a reasonable cost.
Thanks to its pre-built starter templates, anyone can create a fully functional website and run in no time. Moreover, because it uses the WordPress customizer, you can control every bit of your theme that doesn't require any special knowledge of coding.
So, whether you're using the Free version or Pro version of Astra, it's worth considering for your next WordPress website you're planning to build.
Have you used the Astra theme? Share your thoughts in the comment section below.