Anyone who has dreamed of making passive income online in the comfort of his own home may have heard of Affiliate marketing.
It may be too good to be true, but yes – affiliate marketing is what they say it is. It is one way to make money while you sleep.
If you want to know more about affiliate marketing, you have come to the right place.
In this article, I will tell you all the basics about affiliate marketing in the easiest way possible. So check out how to get started affiliate marketing guide step by step.
What Is Affiliate Marketing?
Affiliate marketing is the process of earning the income by promoting the products and services of other people or company. You can promote the products on different channels and earn the share of profit for the conversion.
Or
Affiliate marketing is a process in which an online retailer pays commission to an external website for traffic or sales generated from its referrals. The may be ranging from $1 to $10,000 depending on what type of product you are promoting.
The affiliate earnings you make depends on several things:
How effective you promote your offers
The number of people you refer to a seller's website
The percentage commission an affiliate program offers
Also, the process of affiliate marketing involves three or four parties:
Merchant (Seller, vendor, brand, or advertiser)
You (Affiliate marketer or publisher)
Customer
Affiliate network (optional)
How does affiliate marketing work?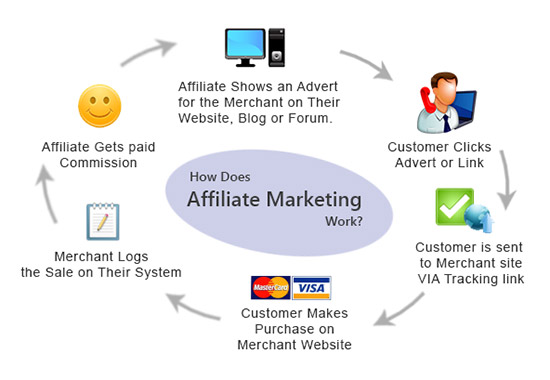 The process of affiliate marketing basically goes this way:
1. Once you have chosen a product to promote and joined an affiliate program, you will be given an affiliate link which contains your unique ID.
2. When a potential customer comes across your website in the process of searching for a product online, he may purchase your promoted product through your affiliate link.
3. Your visitor's action is tracked through a cookie which will be stored in his computer for a number of days. If the person buys the product via your affiliate link, the cookie will help identify that the sale was made through you.
4. By the time you reach the minimum payout amount required by the affiliate program you're in, you'll get paid with your commission.
Benefits of Affiliate Marketing
You can make a lot of money. There are many bloggers who are making over 7-figures from affiliate marketing and if you do it in a right way then you can be one of those bloggers.
You can make money while you sleep. Yes, you heard it right. Once you set a profitable campaign it can make money for you 24/7.
Little requirements to get started. All you need is a computer, internet, and some money to spend on website or traffic. You don't even have to hire employees or rent office space.
You will be your own boss. As a successful affiliate marketer, you don't need to work for a 9 to 7 job by following your boss orders. You can work anytime, from any part of the world with full freedom.
Commonly Used Terms in Affiliate Marketing
Affiliate: This is the person who is using affiliate program links to promote and generate sales.
Affiliate link: It's a special tracking link offered by the company to track the progress of your affiliate promotion like sales, traffic, clicks etc.
Affiliate network: These are the bridge between merchants and affiliates where affiliate needs to signup for their affiliate programs based on their niches.
Payment mode: There are various Payment methods which are used in affiliate programs like Paypal, Wire Transfer etc.

Cloaking:

Cloaking is the process of hiding the tracking code of an affiliate link that can be done by using several plugins like pretty links.

Cost Per Action (CPA)

: You will be paid a commission for every specific action that a potential customer completes. This action involves filling up a signup form, completing a survey, or downloading a web merchant's app.

Cost Per Click (CPC)

: This is where you receive a commission for every click that a unique visitor makes on your affiliate link regardless of whether that visitor makes a purchase or not.
Cost Per Sale (CPS): You get a commission each time a customer buys a product through your affiliate link.

Commission:

 At the end of the day, it's all about the commission. That's the actual income paid out to an affiliate based on the number of sales, leads, or click-throughs to a merchant's site.

Tracking Code

:  It is just a small piece of code or a unique reference id given to you by affiliate networks that helps record the number of sales or visitors to a specific page on your website.
Before you dive straight into being an affiliate marketer, there are a lot of things which should be taken into consideration.
Next Action Steps for you:
#1. Look for the top affiliate programs and join them
There are a lot of affiliate programs available online for several niches, all you need to do is find the right affiliate networks and signup to join them. Some affiliate network requires approval process that might be tricky and it will be based on how good your online reputation is. Make sure you are being compliant with their terms and policies required to signing up their network.
#2. Starting an Affiliate Blog
To get started with affiliate marketing, you need a blog.
Choosing a blogging platform is easy. There are many blogging platforms out there and all you have to do is to pick out the best one.
Instinctively, you would want a blog creation tool you often hear about by word-of-mouth.
A highly popular tool to use for your affiliate marketing blog would be WordPress. (Read: How to start a blog)
Think of a good domain to use for your blog. Lastly, you will need to get yourself a reliable hosting service such as SiteGround or Bluehost.
#3. Perform SEO for Affiliate Marketing
Search Engine Optimization (SEO) is an essential part of affiliate marketing. Why do you need SEO for your marketing efforts?
In simple terms, SEO is all about using the best techniques for your blog to rank high in search engines. That way, you'll be more visible and gain more website visit – also known as traffic.
One of them is to make high-quality content that provides value to people (as mentioned earlier).
You will need a trusted SEO tool such as Yoast SEO to guide you through the process of creating those interesting article or product reviews before they go live. You can't risk making a bad first impression on your audience.
#4. Make your first sale!
After you are approved for a few affiliate programs, go ahead and use all the internet marketing efforts to promote your links.
Top Affiliate Networks where you can earn money
If you're a beginner then Amazon's affiliate program is the best place to get started with affiliate marketing. With Amazon affiliate program, you can promote Amazon products on your website according to your blog's niche.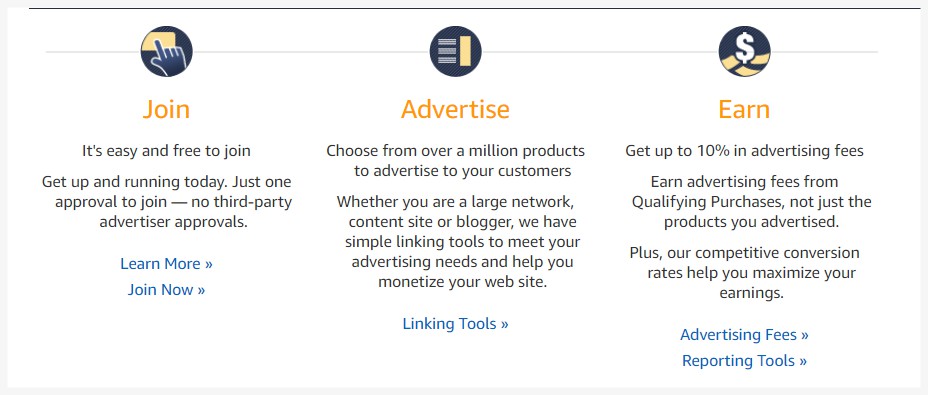 The commission is different for different categories. The Amazon Affiliate Program provides different tools including links, banners to promote products. Promoting Amazon products, there are many affiliate marketers already making thousands of dollars per month and you can earn too.
ClickBank is the popular affiliate market network with thousands of products available there to promote. You can promote any of the product based on your niche and can earn a commission up to 75% for the products you're promoting.
CJ is another popular affiliate network which was formerly known as Commission Junction. You can find different products to promote by signing up for their affiliate program.
Shareasale is another large and popular affiliate network. Just like ClickBank & CJ, you can find thousands of products to promote with different commission rates.
FAQ For Affiliate Marketing
Is affiliate marketing genuine? Is it Harmful?
No, Affiliate marketing is not harmful anyway and its 100% legal marketing process. So you don't have to worry about it.
I want to become an affiliate. What do I need to do?
All you need to do is fill out the online registration form found here. As soon as your application has been submitted, They will need to manually approve it, a process that could take up to 3 working days. You will be notified via email when your application has been approved (or declined).
How Do I Find an Affiliate Service Provider for Any Product?
Visit any eCommerce website or online shopping website and search for affiliate marketing on the website. Or simply search in Google "product name + Affiliate program".
What is the cost of joining the Affiliate Program?
You have to pay nothing to the affiliate service provider. You just have to money on the internet and use your skills.
Is there are any restriction by placing affiliate ads along with Google Adsense or other advertising networks?
Of course, there are no restrictions whatsoever. You can promote any of the affiliate programs regardless of whether you work with other advertising networks.
What qualification do I need to join this program?
Do you have good knowledge of internet? If the answer is yes, then you can join affiliate marketing program.
Do I need to have registered a company to work with you?
No, you don't! You can choose to be paid as an individual and not as a company when you fill out your application form or by going into your account and changing your payment preferences after you receive access to the network.
How much can I earn as an affiliate?
This is not a question that can be answered in numbers. There are affiliates who are millionaires, known as super affiliates and then there are those who make very little and everything in between. Earnings depend on the type of methods used, the level of commitment and work that is put in, and learning proper techniques which are implemented in the correct manner. One thing is guaranteed, the earning potential is unlimited.
Final Words
Venturing into an affiliate marketing business is great.
Affiliate marketing remains to be one of the best ways for you to earn fast – if you know how it goes and if you do it the right way.
It's convenient too because there'll be no need for you to create your own service or product.
All you have to do is to focus on promoting those goods or services and follow the best techniques to gain more web traffic.
Hopefully, you have learned a lot from this article. I wish you luck on your affiliate marketing journey!