If You are a blogger or you are running your own website and trying to improve your SEO ranking via backlinks, then you definitely heard about blog comments. It is one of the oldest and effective ways to increase backlinks and traffic to your website. Besides getting noticed, building lasting relationships with other bloggers, and expanding your knowledge and perspective on a subject matter, blog commenting can be an effective strategy to drive quality traffic to your blog, gain guest posts and brand partnership opportunities, get inbound links, and achieve expert status in front of a targeted audience.
Now that you have your list and know some of the benefits of blog comments, let's talk about general guidelines for how to write a comment, so you can stand out in a favorable manner, and add value to the blog post you're commenting on.
SEO Benefits Of Blog Comments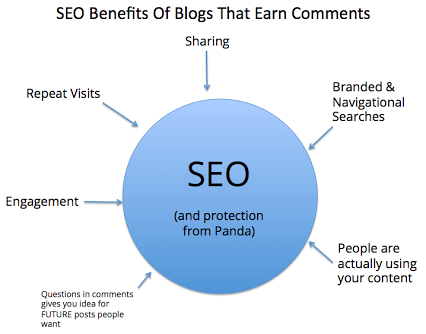 1. Creates opportunity – Commenting on blogs can help form relationships. When you consistently make blog comments, the relationships you form will be done over time, too. The more consistent you are, the more likely you are to build them. Over time, a friendly relationship may grow and lead to new business opportunities or even guest blog posting opportunities grow your contacts and this can lead to more connections, guest post opportunities, and new business.
2. Raises your profile – adding interest to someone's article gets you noticed by other readers and the blog author.
3. Drives traffic to your own blog – Blog commenting can bring direct traffic to your blog. If you select high profile blogs in your industry and leave intelligent and meaningful comments, people will click over to your site if they like what you are saying.
4. You'll learn something new – there's nothing like a good debate and it will enrich your own experience.
5. Sparks more blogging ideas – reading other blogs is inspiring and the debate may spark an idea to present an alternate view in your own article.
Also check: 6 Effective Strategies to Increase Your Blog Traffic
How to Use Blog Commenting to Get Valuable Backlinks
1. Finding the Right Blogs
The first (and most obvious) step to write a comment is to locate blogs to comment on. We can do this a variety of ways using free tools. Mainly, Google!
Websites are created within niches. These niches act as an umbrella definition for everything within your website. For example, if you have a website on "travel guide," your overall niche would be "travelguide." All major search engines look for relevance when reviewing links. If you get a link from someone within your niche, the link will be much more effective than a link from a completely unrelated niche. So first things first, when you begin blog commenting, comment mainly on blogs which are within your niche. This will make your links have more authority and provide your website with traffic that is interested in the overall topic of your website.
2. Try to be First
Don't do it in the annoying forum way by just commenting "first" or similarly, "great post." You want to be first, but only after you've read the article and know you have something great to say about it.
On most blogs, comments are shown in order of when they were left, so if you are quick your comment will be at the top. On blogs with a lot of comments, this is an important way to gain the most exposure.
3. Only Comment if You Have Something Valuable to Add to the Discussion
Thinking of writing "Oh! What a great post this is and I am glad I found your post on the topic that I was looking for?" Drop the idea. Writing such a sentence would pose you as a spammer in the eyes of the community members. Even if you are not a spammer, you will be treated as one. It will do you the word of good if you can contribute to the post in an actual manner rather than posting some general messages like the one I've shown you.
4. Continuing the Conversation
The best way to earn your reputation as an authority is to follow conversations through to their natural ends. Rather than posting one comment and leaving the page, stick around and see if anyone follows up with you or adds their own insights. Respond to them diligently, and keep the conversation moving to generate more attention to your expertise.
5. Making Repeat Appearances
While it's important to diversify your blog sources, it's also important to make repeat appearances on your most important blogs. Visit new articles by the same authors, and post new comments. Over time, your shared audience will come to recognize you as an authority in your field.
6. Following Up on a Daily Basis
It's also important to commit to this strategy. Blog commenting is not a campaign that garners you instant recognition or a sudden increase in web traffic. You'll need to take some action for your blog commenting strategy on a daily basis, whether that means following up on your previous comments, making a new comment, or just working to get to know your audience better. Align your blog comments and personal brand with your social media strategy, and soon you'll create a mini online empire where your reputation and visibility earn you the respect and interest of your potential clients.
How To Write Great Blog Comments For Traffic
Now I'm going to teach you about HOW to properly leave a blog comment:
1) Enter Name
This is where you put your name. Use your entire name. Make sure that your name is spelled correctly and you use the appropriate capitalization.
This is your first impression to the blog owner and anyone else that reads your comment.  If you name is misspelled or not properly capitalized or USES KEYWORDS then there is a very good chance your comment is going to sent to Trash or SPAM and certainly won't be taken seriously.
2) Enter Email Address
This is where your email goes… Pretty straight-forward… Use an email address you actually check because the blog owner may want to contact you as follow-up to your comment.
3) Enter Blog Link
This is your opportunity to place a link back to your website.  This is the first page that any potential visitors are going to see.  This does not have to be your homepage.  I use https://thelifetech.com/about-us/ (which is my About Page) on many blogs I comment on.  I do this so that anyone who enjoys my blog comment and wants to find out more about me cab get a good idea of who I am right away.
4) Enter Blog Comment
We're going to talk about this section more in a minute but inside this big box is where you leave your comment. Keep reading for more on how to leave an awesome comment that generates blog traffic.
5) You're Not a Spammer
Most blogs will have some sort of SPAM protection and you will need to check off that you are NOT a Spammer. On this blog, I use Akismet Plugin.
6) Additional Options and Features
Many blogs will offer individuals who leave blog comments additional options or features. Options include subscribing to comments, receiving a free information product or subscribing to blog updates. Check them off if you wish.
It has been fun talking to you guys through the post. If you like this post and have any suggestions then feel free to include your suggestions in the comments box, would love to discuss more about them.