All bloggers have one common goal: traffic. But there are so many factors that you got to ace before you get to the goal, such as building links, getting your SEO game right, building connections with others in your niche as well as having a strong social media base.
But, sadly, this process that I laid out before you, is easier said than done.
Why?
Well, simply because, building connections, getting a strong social media follower base and having loads of sites linking out to you isn't as easy as it sounds!
It takes a lot of hard and strategic work.
Also, not all of us can handle rejection that well. For example, I have gotten the most successful yet, via guest blogging and HARO but if I get a few rejections through that, it is sufficient to demotivate me.
So what is the solution for sensitive people like me and you!?
Well, one is to face it like a challenge and keep on trying, which I do and the other is to apply this or any of the content strategies mentioned here, to drive links, social media shares and a humongous amount of traffic to your website with ease (which I also do).
So, before further ado, let's begin to break down this form of content which is super powerful yet highly underused.
Have You Tried Expert Roundups Yet?
Expert Roundups are literally my favorite form of content. These forms of content are where you select a topic and search around for opinions of experts in your niche and related niches. If your website is pretty small or is somewhere in the middle, then be prepared for rejection.
And, as such, this strategy is more like a numbers' game. Try to ask as many experts and influencers in your niche as possible. It will be more than worth it. When they answer you your query, you create a post wherein you put a headshot of the experts, followed by their names and website. Show some link love and make sure the links are do-follow.
Now, wait and watch.
If you have incorporated the opinions of a large number of experts, you shall be sure to see your traffic skyrocket through the roof in a completely unprecedented and unimaginable way.
But that is only part of the show. This abnormal increase in traffic and social shares is sure to turn some eyes and be prepared to be linked to by the experts you mentioned as well some others in your niche, who just came across your post.
Still, don't believe me?
Here are some examples, then!
Shut up and Speak created an expert roundup involving 44 experts and that post fetched them a whopping 956 social shares and 39 links from 9 unique domains!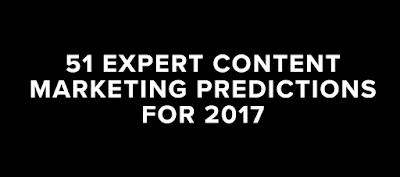 Magnificent's post on 51 Expert Content Marketing Predictions for 2017 got them an astounding 650 shares on social media according to BuzzSumo.
In short, expert roundups are a superpower no matter if your blog is or is not high-end and receiving a large amount of traffic.
So, now that we have established the importance of this kind of post, let's move on to, how you can do it like a boss!
#1. Use HARO to get Awesome and Huge Number of Pitches and Bloggers to Contribute
You need bloggers, influencers, and experts to contribute to your expert roundup? Then, your best bet is HARO, the acronym for Help A Reporter Out. If your website is a high-quality blog, receiving a huge amount of traffic, then the quality and number of leads that you get via HARO will obviously be more than if your website is not of the mark.
Anyhow, let that not dampen your day. Go to HARO and select "I am a journalist" button and fill out the required form.
And that's all. Your query will go out to the hundreds of thousands of HARO subscribers!
But, there's a glitch. If your website is ranked higher than Alexa rank of 1 million, you won't be able to send out a query request via HARO. Fret not for I have out listed a workaround this problem in the last section of my Ultimate Guide to Help A Reporter Out (HARO).
#2. Reverse Engineer Roundup Posts to Get Awesome Prospects
I have been witnessing an odd spurt in roundup posts in 2018. Although this spurt is restricted to top-notch blogs, but never the less, this is an excellent way to reverse engineer their hard work for you to get success!
First search google for Keyword + "roundup posts", Keyword + "expert roundups", Keyword + "influencers" or Keyword + "experts" etc. The inverted commas help search for specific terms in Google. So, now that you have got a pre-made list of experts and influencers in your niche, the ball is in your court. Try connecting with these influencers on LinkedIn or Twitter or go straight for the kill.
Prepare your expert roundup and go for it.
Also read: How to Find Low Competition Keywords with High Traffic
Craft an Awesome List Post
Everybody loves list posts. BuzzSumo, a website which went from nothing to one of the top websites on the Internet used specifically this technique.
After all, who can resist an article like 101 Tactics to Drive Blog Traffic Which You Can Use Right Now? Like heck! It has 101 listed points! I remember when I first came across this article, I had bookmarked it and kept on visiting it: such is its power!
But there's something more to it.
List posts are hellishly shareable and linkable. If you put Shoutmeloud's link in Open Site Explorer, you will see that this article is one of the most linked-to contents in Shoutmeloud.
But, and this is a big but!
Your list posts need to be extraordinary, in the true sense of the word.
Have you ever been on a long bridge and wondered what the fourth longest bridge looked like?
I guess the answer is a no.
This is because we as humans have our basic nature to be affixed to the best. And, this is why your last post needs to be pretty much the ultimate list post on the topic there is.
So, if there is a list post detailing 50 points, you better create a list post detailing 100 or 200 points. The larger the list post is, the better chance your blog post has of going viral.
So, for starters try to find a topic that hasn't already been covered to death and which has plenty of room for improvement and then prepare your master list post.
This is because there is no point covering an already covered topic that does not have much left to cover or much to improve upon.
Your best chance of going viral is to find less covered but, highly searched for topics.
Quora is an awesome way to search for inspiration for such list posts. Just go to Quora and search for your niche related keywords and look at the most followed questions up there.
That's your chance, my friend!
Try to get into the nitty-gritty in each point as that makes your list even more outstanding.
The Best Way To Create an Awesome Blog Post – Infographics
The thing about the infographic is that it allows you to put information in a graphical format that in turn allows your viewers to retain the information you provide more lucidly.
Since this type of content captures and retains the audience's attention so vividly, it is no surprise that it is linked to and shared a hell lot more than normal blog posts. But then, they are not as crazily shared as they were, a while back.
If you want to get started on infographics, Piktochart is a great place to start at. Or you could just hire someone at Fiver and give them the subject matter to design an infographic for you. You will be surprised just how good they can be!
Just remember, if you try to do an infographic, the design matters. Very much.
How About A Mash-Up?
These three types of content are the best forms of content out there to bring you humongous traffic and social media shares.
Expert roundup is the most underused among them and the most powerful (if you do not have a good amount of traffic or don't wish to promote it); list posts are second most powerful (or the most, if you have a good amount of traffic or/and are willing to promote it) while infographics are third in our countdown.
But here's where the magic lies!
You see, I always wondered what would happen if these content were used together. The fact of the matter is, that they have been. And guess what?
They have generated a tremendous amount of success!
And, you can very easily replicate their strategy to suit your need.
Let's look at some case studies to further elaborate this point:
Before Backlinko's phenomenal article on the 200 ranking factors used by Google, there were lists of ranking factors like 20, or 30 or maybe, at the maximum 50. But, never more.
This is because Google has mentioned just some of its ranking factors while the rest factors are clouded in a sheath of mystery.
This mystery has been somewhat unveiled by numerous experiment by famed SEO expert like Rand Fishkin's CTR experiment but this veil remains to this date and to a great extent.
Brian Dean attempted to uncover this veil. He himself says, the first 50 points were easy, then the next 50 became hard; the next 50 became even tougher and the last 50 became downright impossible!
Which is why, the SEO genius, took others' help. These others were SEO experts too and thus this list post turned into an expert roundup + list post mash up.
This phenomenal article has received an unimaginable number of social shares and links.
How many you ask?
21432 shares on just Twitter and Facebook. There are no clue how many shares it received on other platforms. As for links, the post got 2166 links from 1126 unique domains.
And, if that was not enough, Brian again emulated this success on his humongous list on a list of 188 SEO tools. Each tool contains a description and can be sorted and filtered. Here too, Brain took the help of numerous other experts in his niche.
As a result, it again garnered an astounding number of 18865 social shares and 637 total links from 183 unique domains.
As a comparison, you should note that Brian's posts averagely receive around 2000 social shares (they are pretty awesome too :D).
Now there may be several forms of mashups, and you will uncover them as you surf the web eventually. I'll just skip all that mashup, even though they are awesome and bring to you, the most awesome form of mashup that exists.
It incorporates all the three types of content that I talked about: Expert Roundups + Lists + Infographics.
There aren't many articles like these but I know of one.
And that is an infographic by Brain Dean on Search Engine Journal on the same topic of Google's 200 ranking factor.
This "ultimate form of content"(let's call it that XD), generated 193 total links from 99 root domains. And, before you cry out "That's far less than what Brian Dean published on his blog", let me tell you why it is so.
Basically, when someone creates a unique form of content, most people link to that particular content. Also, Search Engine Journal's infographic was a spin-off of Brian's own content at his website. In simpler terms, the content was not original.
But the type of content was still so powerful, that it generated so many numbers of backlinks, which is nothing less than marvelous. I guess this goes to show why this form of content, definitely deserves a mention as the most powerful and underused technique there is, to generate links and social shares.