Android Vs IOS Comparison 2017: Apple and Android, both are highly popular operating systems. Apple devices are best known for performance and Android devices are best known for their user-friendly interface. They both have their own reason and specialty that led them to become popular internationally.
When you buy Android wear then you get many features that are not available in IOS. Same goes with the Apple devices because there are so many features in Apple devices that cannot be found in any other device all around the world.
If we compare Android watch and IOS watch then we will find that they both are highly appreciated by the audience all around the world. That is the reason why people find it hard to compare them with each other on basic analytical aspects.
In order to clarify the present trend of OS, we have done an analysis of these two operating systems to find out what are the features that make them different from each other this year. The competitive scenario includes various major parameters that provide information about market standing as well.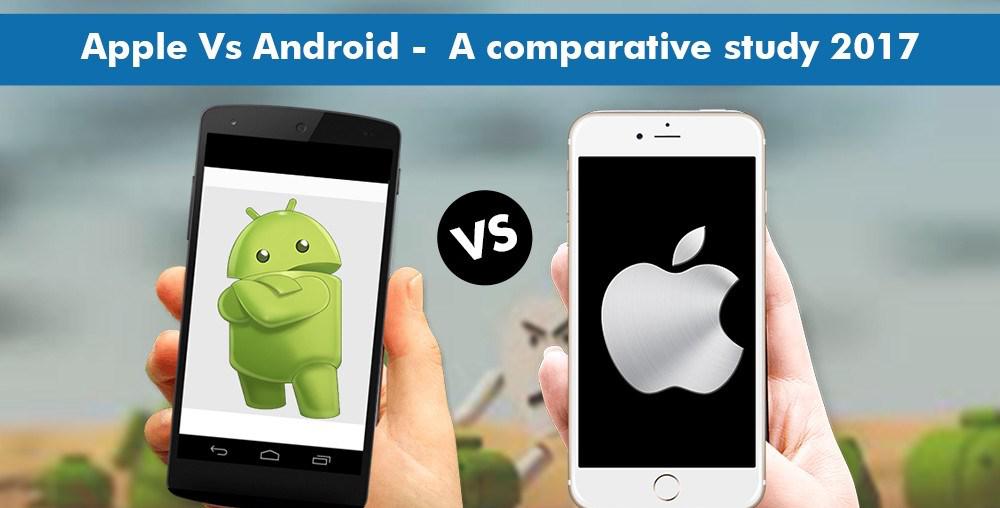 Android Vs IOS Features in 2017
There are several features that are incomparable in both operating systems because that is what makes them unique and that is what allows them to get their own standing in the market. We have enlisted basic feature of OS and compared them with each other.
Development and release: Andriod is developed by Google on September 23, 2008. It is an open source operating system. IOS is developed by Apple Inc. on July 29, 2007. It is closed and restricted operating system which carries some open source components and can be found on Apple devices only.
Customizability and Availability: Android offers complete freedom of customizability. This operating system is available on various different devices in the market. Apple IOS offers limited customization options. IOS is available on 2nd and 3rd generation Apple devices.
File transfer and Calls: File transfer is easy on Android. Media file transfer can be very complex and difficult on iOS. Features like this can be enhanced with time with the help of ios update. If you want to do calls and messaging then many third party apps are available for both operating systems.
Applications: Android smartphone app or android wear app can be found on Google Play and there are many other stores that distribute. APK applications that are supported in Android. Apple iOS application can be downloaded only from Apple App Store.
Voice Commands: Android offers Google Now on new versions of operating system and new devices. Apple always offered Siri voice commanding feature in iPhone which makes it special and unique as well.
Maps: You can view maps in Google Maps and Apple Maps.
Latest Release or Update: Android 6.0.1 (Marshmallow) was released in October 2015. Apple ios 9 update version 9.3 was released on March 21, 2016.
Battery life and battery management: Android smartphone and Android Wear watch carry larger batteries with longer battery life capacity. Apple device's batteries are not as big as Android and they offer a decent battery life. Not as big as some Android batteries.
Cloud Services: You can find Google cloud storage services in smartphones and smartwatch android. Apple iOS offers native iCloud cloud storage option. However, there are several other applications available that can be used for cloud storage requirements.
Media and backup: In all android wear watches and smartphones, you can find an automatic backup feature with unlimited photo backup option in Google Photos. Apple offers 5 GB of automatic backup option with iCloud and then you can purchase cloud backup space from other vendors.
Security: Since the Android software has freedom of customizability and is not complex in its built nature, this becomes the major reason for some lack of security. However, patches are available to get perfect security in Android devices.
Apple devices with IOS9 operating systems are highly protected. Most importantly, there has not been any kind of security concerns and security breach in Apple device since it has complex and hard to break the operating system that ensures the best security of the device all the time.
Android Vs IOS Market Standing
The market of smart devices is filled with a lot of competition and a lot of differences. Comparison of the Operating system cannot ignore the market standing analysis.
Worldwide Market Share in OS: Android operating system belongs to Google Inc. and it is based on Linux. This is an open source operating system that is why it is widely used in most of the devices. iOS is an operating system that is developed by Apple.
87% market share is dominated by Android and 12% market shares are reserved for Apple iOS. This could be due to the fact that Apple iOS is limited to Apple devices only. While on the other hand, Android is open source that becomes the inspiration for companies to use it in their devices.
Geography Distribution: Android distribution is basically in Asia and Africa nations. IOS distribution is in the advanced and highly developed countries such as Australia, US, Europe etc. That is also a big point that makes them different from each other on several cultural and socio-economic factors.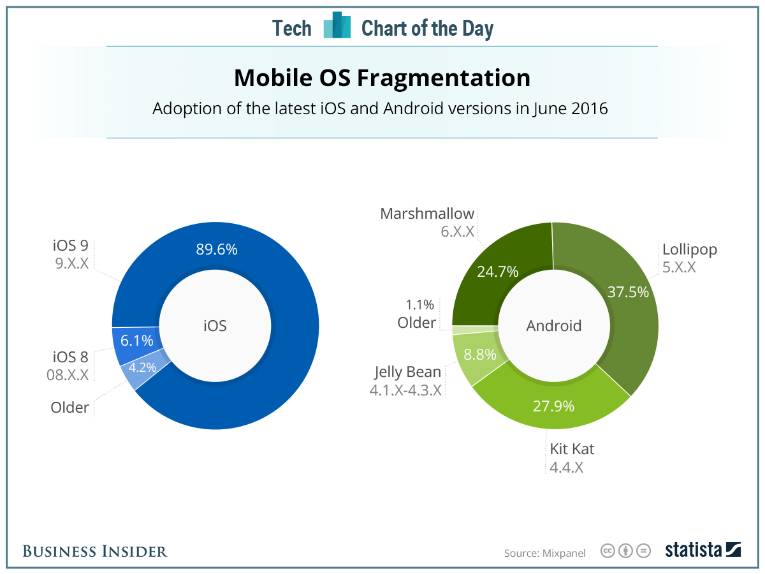 Device Fragmentation: Fragmentation of the device is high in Android while Apple is completely free of this problem. There is no issue of any kind in Apple devices which makes it free of any bugs and there are no vulnerability and security concerns in Apple smartphones.
User Experience: No matter how user-friendly Android might be, Apple is, as always, on top of user experience charts. Apple has a clean and simple interface while the deep-set menu of Android becomes the reason of lack of user experience efficiency.
Security and Privacy: Android operating system is developed with an open structure and that is what makes it vulnerable to cyber threats and hacks. However, Apple is very strict in its structure and that makes it a strong defender of privacy which ultimately provides the best security to its devices.