Content writing is a career choice which demands proper time and extensive hard work from you. Excellent and high-quality content attributes on building a prosperous brand. If you are a content writer, you can choose an accessible path and write content, but it will lead you to nowhere. It will only result in the waste of energy, time and resources. So the correct way is clear to you.
Now it is simple to create some high content, boost rankings, gain traffic and increase the exposure of your site. Google has made content writing straightforward as it penalizes duplicate content and will reward high-quality sites.
Whatever the reason is, if you have a content site, then it is necessary to write correctly. Content writing is neither a rocket science nor a dilemma; it is a simple work which you can master in a short span of time. With passion, little effort and a lot of energy, you can write well and get a place in search engines.
Here are a few content writing tips which can help you to write well and enhance the value proposition of your content:
1. Create Original Content
High quality, original content is one of the most significant elements of content writing which helps the webmaster to get top rankings in search engines.
Google continuously looks for high-quality content focused on the terms which a large number of users are, user, searching to rank high in the organic search engine results. Therefore, a content writer requires an upfront commitment of time and resources to produce quality content for the readers. It will help you to drive real long-term benefits from writing. Content writing is considered to be the most cost-effective strategy for digital marketing.
Google's working revolves around the mission to organize the entire information of the world on a single platform and make it universally accessible and useful for the people searching for something on Google.
So when you are writing, you must bear in mind that Google will rank your content by accessibility and usefulness. Therefore it is necessary for you to add valuable information to the existing content available on the internet.
The term 'original content' not necessarily refers to writing new material. If you are writing a new story, it will automatically become innovative. If you are giving your personal opinion on a particular topic or sharing your own experiences with a new tech gadget, it will also come under the head of unique and original content.
For example, I shared my personal experience with detailed Grammarly tool review.
An original content gives long-term results. Copying content results in penalties and punishments and crushes the bottom line of your online market presence. In short, writing unique content is the best way to drive traffic.
If you have done keyword research and you are utilizing the terms that can drive traffic to your site, then the original content would be a real boost for your ranking as well as your business. Creating original and unique content to add valuable information to Google would be a great way to show your expertise in your specific niche.
2. Keyword Research
A thorough keyword research in content writing is critical for two purposes:
It helps you to incorporate the right keyword in the content
Keep the content writer focused.
How keyword research keeps the writer focused and why?
Keyword research is all about listing as many long tail keywords related to business as possible.
While writing, you are attempting to solve the problem of the readers by providing the answers to their queries through your content. People don't use small phrases to search something. Instead, they mostly use long expressions to find precise information related to the subject which they are looking for.
Therefore, if you want to increase traffic to your site, you need to write web pages or blog posts explicitly addressing their issues associated with your business in any way. This sort of content incorporated long tail keywords can improve your ranking by helping you to create the content which people are looking for.
In simple terms, keywords are the combination of words and phrase that user's type in search engine bar when they need information. It is considered to be a language that is understandable by the search engines and helps to index more relevant for the searcher.
A targeted keyword is a critical tool which can increase your traffic by making your content discoverable. When you write the material for the website, there are several places where you need to make sure that the primary keyword is placed correctly.
These crucial areas are the title tags. You can also make them the title of your blog posts.
The first paragraph of your content is also a prominent place where you can use a focus keyword to ensure the topic is immediately understandable for the reader.
Here are some simple tips to make sure that the keywords are used correctly in the content
Don't repeat the keywords again and again.
Use synonyms of the main keywords to give more natural and organic touch to your content.
Avoid over optimization and keyword density because Google can penalize you for this.
3. Intensely Optimized Headlines
Headline sparks interest and invites the reader to dive into the pool of content. The captions or the title of your webpage or blog post is the total of what you are intended to communicate throughout the page or post.
According to the statistics from Copyblogger,
approximately 80% of the people read headlines
and only 20% of those read rest of the content.
Therefore, it is essential to make sure that your headings are intensely optimized. Such headlines can make or break your discovery rankings.
While writing, select a central keyword or a specific search term and weave your title around that keyword. For example:
If you want to rank higher in Google SERPs, or to target the audience on Google search engine, then it is important to keep it short. A title within the limit of 60 characters would be adequately visible in the search engine results.
It is always important to address the main issue in the title, as it will appear as a hyperlink. If your hyperlink is addressing the central issues, then people are likely to click it more.
Another important consideration is to optimize headings and organize the text under different headings and make sure that it is easier to skim the webpage content.
Headlines are another opportunity where you can use your keywords. Google search algorithm will take these keywords in <h1>, <h2>, <h3> tags.
When it comes to crafting the headline, it is essential to focus on three primary headline preferences.
The number: You can attach a number to your heading, such as 10 ways to grow the online business.
Address the reader's need: Try to place useful content for the readers. Create specific material related to instructions.
Use right keywords: It is essential to use correct keywords. Look for the keywords that have high search volume. Proper use of keywords in the headline will reflect the words related to your post which the users look for the most.
4. If you are writing a How-to content, Make Your Content Actionable
Have you ever advised your readers on how they can apply the lessons?
The best content is the one which gives the users a sense of how they can apply the information. It is a way of giving respect to the readers and providing them an assurance that they have gained sufficient knowledge about a specific material and they can use it in their best interest.
You can take the example of this how to guide from Moz.com that is explaining how you can write actionable content. Here's the screenshot below: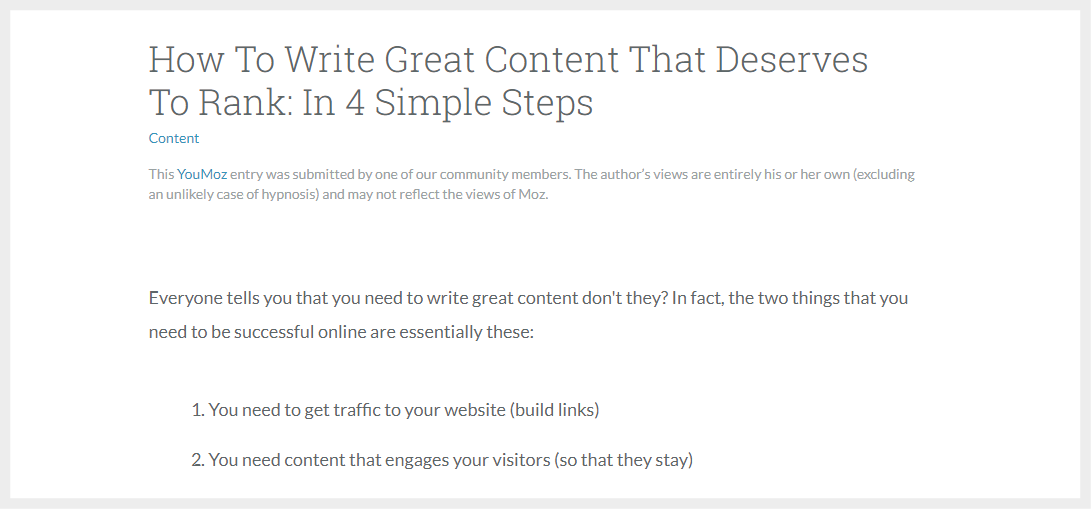 When you are writing a how-to blog post, give tips to your readers on how they can apply your offerings. Most of the time, writing well about the topic sparks the interest and ideas among readers.
When people have problems, they opt for Google to search solutions. The same is true when people want to learn about something, or they want to know how to do something. You can ensure your presence at their fingertips by sharing information they need when those searches happen.
Unfortunately, there is too much how-to content out there because it is easy to tell people what to do without providing actionable follow through. Crafting actionable content means showing the readers how they can get the stuff done. Here are some pointers which can help you to create actionable how-to stuff:
List all the steps related to completing each task: Figure out different stages of the process, it will make actionable content writing more comfortable for the readers.
Share details: Sometimes it is tough to figure out how much detail is required.
Use screenshots: The pictorial representation of something is more efficient than telling in words. Break the selected task in steps and illustrate the process with screenshots. Try to add a quick video: A step by step guide or explanation takes too many words. Addition of a short video will make content short and easy for you.
5. Credit the Source
Imagine you are writing a blog for your company and thousands of people are reading those blogs.
……..And then some of those blogs turn out to be inaccurate.
Can you imagine the consequent damages to your business due to this inaccuracy? How much will it cost to your company and your reputation?
Always keep in mind that your blog is the real reflection the whole status of your brand. If anything goes wrong to your blog, it will ultimately affect the whole status of your brand.
Therefore, it is essential to make sure that any statistics which you are stating are verified. Try to share the link for the stats as well as sources.reflection of your business.
Accuracy enhances the credibility of content and helps in building trust among the readers. Do you remember James Frey, author of the book 'A Million Little Pieces'? He went to Oprah Winfrey Show and admitted that the book was made up of lies, it permanently damaged his career.
Have you ever seen the fantastic movie Shattered Glass or have you seen Stephen Glass's fall from grace? These things can help you to understand the devastating effects of inaccuracy on a career and reputation.
Crediting the sources is something easy to overlook, but it is essential for the accuracy of your post. If you are borrowing a quote or a piece of information from anywhere, it is a critical link back. It can yield some real long-term benefits:
Increased Exposure
Show support for your claims
Make your content more useful
Are you mulling over the issue of accuracy in your content? Here are some simple tips which can help you out.
Consider who you are linking: Linking to another quality website will help you to earn more trust from the readers. So, it is essential to ensure that the websites you are linking are trusted and authoritative sources.
Link to more and more content: Source in your content will help you to substantiate what you are writing and make your content more trusted source of information for the readers.
Help out the search engines: When you link your post to other sources it will help the search engine to figure out the story in your content, and it will categorize you accordingly.
6. Create Engaging and Thought Provoking Content
Engaged audience hangs on every word and takes it all serious what you write or say. The only way to get the audience engaged is to create an engaging on content.
Yes, you heared it right!!
You are the only one who can initiate this process of engagement between you and your audience. Here are a few content writing tips which can help you to produce an engaging content that will have a long-lasting impact on your audience.
Leave a question: probing a problem for your reader is not about writing an incomplete post. Include items to make readers reflect on how they can implement the information provided on the blog.
Example:
Did you find some tips to increase your blog traffic? What are the other strategies in your mind to increase blog traffic—and how are you implementing them?

Let us know in the comments.
Start with an essential and promising introduction: people judge a blog in seconds. After reading the first few sentences they decide whether the post is worth reading. Hence, when the visitors land on your page, you only have a few seconds to hook up their interest. If you want your visitors to be engaged, instead of bouncing back to Google, then you need to nail a useful and promising introduction.
Here's a great example from a guide of Matthew Woodword's blog:
People immediately fall in love with stories: You can come up with an anecdote or a weaving story in your content. Stories clarify the points efficiently and make blog posts more engaging.
The search engine will consider your post an important and come back to your site more frequently if you share an engaging and thought-provoking content sparking a flurry of comments.
7. Write Better Title Tags and Meta Description
You might have seen tags and Meta tags in search engine results, right?
Tags are the labels or blue links that appear in the search engine to categorize your content, and Meta tags are the summaries of the web pages below the tags or headlines.
These two discoverable elements help search engines to understand the nature and theme of your content.
For SEO purpose, it is essential to make the use of tags and Meta descriptions correctly.
………..because people will first interact with these two elements of your content when they look for content like yours.
But how can I add them?
Well, you can take advantage of tags and Meta description by adding targeted and focused keywords that you have used in your headings. You have approx. 70 character for tags and 156 characters for Meta descriptions. This is like a real estate property which you can cash to attract readers.
Use primary keywords in title tags: Title tag and Meta description are the most significant components of on-page SEO, so it is necessary to pay close attention to them. Using primary keywords in the sections in an attractive way is the first step towards grabbing visitors' attention.
Make your Meta description compelling: Why do people need to read your post? Are there any freebies that entice clicks? Tags and Meta descriptions are the short snippets of ad copy which you can search with an objective to read a post.
Strictly follow the recommended character count: People want to see clear and concise description. Hence, Google will cut off the title tag or meta description if it exceeds the permitted character limits.
8. Measure Your Success on Social Media
You are not engaging in content creation for its sake. You are writing to get the audience read it and to deliver some real results. Therefore it is essential to keep on measuring the impact of every piece you are writing. Here, we list a few ways which can help you to leverage social media to optimize your content.
Learn to use Google Analytics
It is important to hook your site and blog to Google analytics account. Take the full advantage of Google analytics; it is critical to understand how you can use it and how you can leverage data to measure performance and to create great content.
Another important consideration while using Google analytics is to ensure integrating Co-Schedule with Google analytics.
Measure the success of social media performance
The attention which you are paying to the production of your content on social media is another most significant consideration. Note the material which is getting likes, shares, and comments. Then adjust the content accordingly.
Refine your social media copywriting skills
If your content is excellent, yet it is not performing well, then refine your content and start writing thought-provoking articles for your audience.
Bottom Line
Content optimization with the right use of a keyword is one aspect of copywriting, but creating high-quality content is another important aspect of it. Google uses page links to judge content's credibility. Hence, make sure that your content is useful plus valuable.
Remember, you are writing to impress the readers, not the search engines. Thus, you should care about the users and engage yourself in creating value for them in your writing. Keep it comprehensive and simple to make it useful.
We have tried to make the above-mentioned content writing tips easy to understand. You can confidently apply these tips to make your content attractive and understandable for the users as well as Google.