Best Inspirational Blogging Quotes: Hard work is the root of success. This also implies to blogging. Without hard work, you cannot become a successful blogger because all those secrets of success that people tell you will not work for a long time. So, to become a successful blogger you need to keep motivate yourself time by time.
But there are some days when you're not feeling motivated to write your next blog post. It happens to me more than I would like to admit.
That's why I have been collecting some of the best blogging quotes that might help or motivate you in your blogging journey.
The following is a list of top blogging quotes from 15 of the very best bloggers which we can always apply to move our careers forward anytime.
So Sit back and enjoy the post!
15 Best Inspirational Blogging Quotes To Inspire Your Blogging
1. "Blogging can generate a great deal of traffic to your online business." Fabrizio Moreira
---
2. "Blogging and the Internet allow us to engage in a lot more real-time conversations as opposed to a one-way dump of information or a message." Indra Nooyi
---
3. "There are 100 million blogs in the world, and it's part of my job as the co-founder of WordPress to help many more people start blogging." Matt Mullenweg
---
4. "99.9% of great bloggers are not awesome on day 1. Their awesomeness is the accumulation of the value they create over time." Darren Rowse
---
5. "Blogging is a great way to show your talents and interests to prospective employers while adding an edge to your resume. If you blog consistently it shows your dedication, passions, and creativity – all of which are key attributes employers look for in job candidates." Lauren Conrad
---
5. "Blogging is a communications mechanism handed to us by the long tail of the Internet." Tom Foremski
---
7. "Where the Internet is about availability, of information, blogging is about making information creation available to anyone." George Siemens
---
8. "Blog feel small? If you have just one reader and your blog changes their life your blog is big enough." Darren Rowse
---
9. "Create awesome content that teaches. You can't give up. You need to be consistently awesome." Neil Patel
---
10. "The first thing you need to decide when you build your blog is what you want to accomplish with it, and what it can do if successful." Ron Dawson
---
11. "I do not see the process of blogging as a separate thing from creating art. This is in part why I do not like to be known for being a 'blogger,' as this is just one form of output for creative ideas." Keri Smith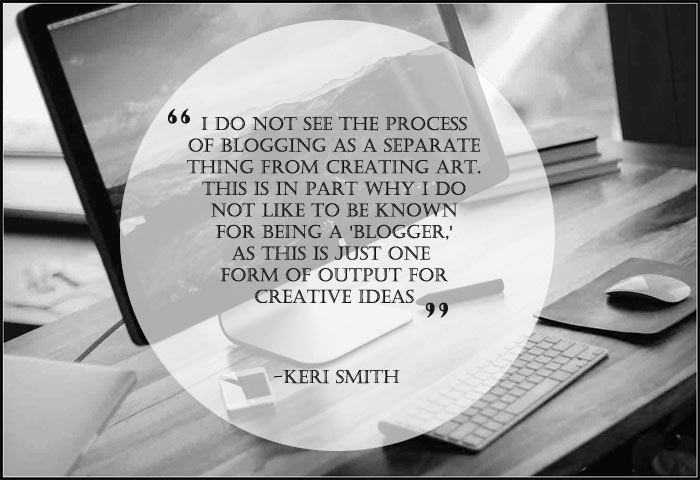 ---
12. "I generally blog between 5:30 A.M. and 7 A.M. I will from time to time add something during the day, but for the most part, blogging is an early morning activity for me." Fred Wilson
---
13. "There will never be a replacement for that ongoing physical contact. But I don't think blogging is meant to replace the face-to-face of friendships and meetings. Blogging is a way to keep in touch with a larger group of people on an ongoing basis, in a more efficient way." Indra Nooyi
Also Read: How to Stand out as a Successful Blogger
---
14. "Way too many bloggers think making money from blogging is like the movie Field of Dreams, where Kevin Costner's character was told, 'If you build it, they will come.' You can build it, but if nobody knows about it, then they're not coming!" John Chow
---
15. "No one cares about your blog unless you are adding value to their lives in some way." Jonathan Milligan
Do you have a favorite quote? Be sure to share it in a comment below!