There are well over one million applications in the Google Play Store that have been downloaded billions of times. That we use them for productivity, entertainment, information, functionality, and everything between. You need the right apps to get the best out of your Android smartphone. As all we know that the Android market is growing. Over 80% of smartphones are powered by the Android Operating System. And the reality becomes how can there be better user experience for users. In this article, we've rounded up a bunch of the best android apps 2017 everyone should have on their smartphone.
Best Android apps 2017: Communication
WhatsApp
WhatsApp is one of the most popular messaging apps in the world and it is one of the best android apps all time. It's essentially like texting but over the internet: just pick a friend and send them a message to start a conversation.
You can also set up group chats, which saves you having to send out identical texts to different people. It's a great way to keep in touch and incredibly easy to use too. Using WhatsApp over Wi-Fi will help you stay within any text or call allowances set by your network provider and save data too.
This one is a must-have. Of course, if not many in your circle use WhatsApp, you might want to try alternatives like Telegram, Line or others. It all depends on what your friends are using.
Facebook
Facebook is the biggest social network in the world. Pretty much everyone has a Facebook profile. If you don't, the chances are you'll be talked into creating one over the next couple of years.
The mobile version offers more or less the same experience as the desktop site: you can share updates, upload and view pictures, watch videos, catch up on the news and much more.
Skype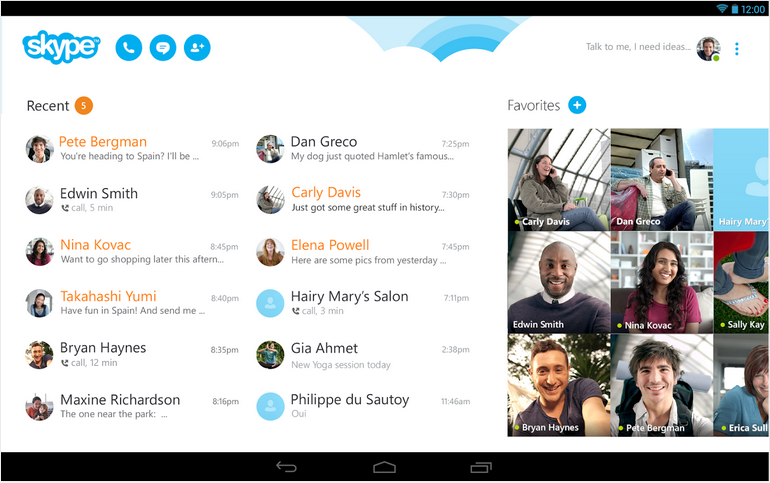 Skype is the perfect app for those of us who prefer face-to-face conversation to sending a written message.
Just create an account, start adding your friends and you're pretty much good to go. Make sure you get a good angle before you make a call, though.
---
Best Android apps 2017: Books
Kindle
With Kindle for Android, which puts the vast digital library of Amazon at your fingertips, you can enjoy the Kindle experience on your Android device. You can access the extensive list of Kindle books available in the Amazon web store and download thousands of free ebooks from well-known authors. The modern bookworm will love Kindle for Android.
Google Play Books
Google Play Books is Google's ambitious attempt to take on what Apple and Amazon already have. Originally known as Google Books, the app has been rebranded to reflect Google's new unified marketplace that combines many of its services into one big package. You can access a wide range of free and paid books using this app. In spite of its shortcomings, Google Play Books is still worth having, especially for the huge collection of books that you can read for free.
---
Best Android apps 2017: Business
Microsoft Office
Microsoft made a strong commitment to Microsoft Office users: they were going to make apps worthy of your monthly dollars no matter what platform you use. In our opinion, they've delivered and owned the best catalog of office apps on Android. Microsoft's biggest achievement was embracing Material Design in an app that doesn't trade usability for mobile efficiency — most things you can do in the desktop apps can be done right on your phone or tablet.
PayPal
Every business has to deal with money and PayPal can help with that. A ton of businesses use PayPal to manage transactions and invoices. Sometimes, it's also even used to pay employees. You can set up a business account where you can accept payments and also make them. The mobile version comes with fingerprint support, the ability to check your PayPal (and PayPal Credit balance), and more. It's not perfect, but it's a good baseline experience.
---
Best Android apps 2017: Education
Vocabulary Builder
 A good vocabulary can be the difference between sounding intelligent and sounding like an idiot. Vocabulary Builder is a well-designed app that aims to teach you the 1,200 most important words. Every word comes with an audio pronunciation, definition, and is used in a sentence. Quiz yourself every day and grow your vocabulary.
Duolingo
Duolingo is the best app for learning languages on Android. Full stop. Like many language learning services try to do, Duolingo turns learning into an addictive game. Each lesson comes with a few "hearts" that act like lives in a video game. For each incorrect answer, you lose one heart. Complete the lesson and you can earn achievements. It's very fun, and the lessons are short enough that you can complete one whenever you have a few minutes.
---
Best Android apps 2017: Entertainment
Netflix
When it comes to streaming movies and TV shows, it's hard to beat Netflix. The service has been around for a long time, and the library of content has gotten better throughout the years. Netflix has also created their own original shows and movies, which are some of the best around. It's $10 per month that you will never regret.
Dubsmash
Doing the tasks easily what others find difficult is Talent and if you have the talent and love some kind of Mimicry, Dubsmash is a perfect app for you. It allows you to mimic a popular dialogue and then you can dramatize it with the same voice over. You can then share the videos with your friends or on social media platforms to gain popularity. The app is compatible with 4.1.Android and up.
---
Best Android apps 2017: Browsers
Opera Mini
Opera Mini is one of the fastest, widely used browsers for Android phones. It has got a simple-to-use Interface which gives you the option to see either Phone View or Desktop View.
It also helps you to save your data bandwidth using Unique Compression Technology. Like Firefox and Chrome, it has the tab functionality to open multiple tabs at the same time.
UC Browser
UC Browser is another fast browser. Additionally, it supports multi-touch and also can recognize and navigate through voice commands. You need to Install Google Voice to make Voice Control work.
UC Browser uses Cloud Acceleration technique to load web pages immediately. You can download files through UC Browser at high speeds.
---
Best Android apps 2017: Photography
Instagram
Instagram is available on Android! This is one of the must have android app and this app lets you apply a variety of photo filters and effects after capturing photos within the app before you share it with other Instagram users.
The most popular feature is the app which gives you the ability to create photos with the Tilt-Shift effect.
Camera360
Camera360 Ultimate made its way onto our best Android camera apps list because it offers so many features, including more than 200 filters, NFC photo sharing and tons of one-touch fixing tools. These adjustment options are both powerful and easy to use, making Camera360 Ultimate a great choice for new and experienced photographers. It's a comprehensive free app that ensures you get the best out of your Android camera.
---
Best Android apps 2017: Music
Google Play Music
Google Play Music is a unique music player in that it's both a streaming service and a standalone music player. It can read the files on your device and act as a regular player, or you can upload up to 50,000 of your songs to Google Play Music and stream them if you prefer. Of course, it also comes with an optional subscription that gives you access to all the content on Google Play Music. It's a sublime mixture that allows people to use their existing music as part of the streaming experience. If you're in the market for both, this is a great option.
Also Read: Top 15 Most Useful Websites On The Internet
Apple Music
You may think the Google Play Store is the last place you'd find an app built by Apple. But Apple Music is here, and it's rather quite good. You'll have access to Beats One, your music playlists, and Apple's catalog of 30 million songs. This option is most likely going to appeal to those who generally stick close to Apple's ecosystem, but it's nice to have the ability to throw an Android phone into the mix. Apple Music subscriptions cost $9.99 a month, but you can enjoy a three-month trial at the start.
---
Best Android apps 2017: News & Magazines
Google Play Newsstand
Want your news and magazines together? Well with Google Play Newsstand, Google has done just that. You can subscribe to all the sites you want as well as subscribing to your favorite magazines. Once more this app is pre-installed on every Android smartphone that's certified by Google.
SmartNews
SmartNews is a rather new news app that allows you to browse headlines and if you find something you want to read, just simply tap on the headline to read the full article. It has a nice and simple UI, which makes it easy to use. While it's not material design, it does still look pretty nice.