How To Start a Blog In Easy Steps: Starting your own blog doesn't have to be complicated or expensive. In fact, more and more people are starting blogs every day. It seems that just about every person or business has a blog these days.
But if you're like most people, you may not know where to get started. Starting a blog can be intimidating if you don't have the required technological skills. Not to mention that the number of options available to start a blog can be just plain confusing.
Blogs are big business. Everywhere you look on the internet, you're faced with weird and wonderful blogs of all different types and conveying lots of great information.
You can seem like a small fish in a big pond when it comes to starting a blog. But that by no means should be a reason to not start one. Blogs are a great outlet for thoughts, advice, and creativity, and can even use to make money.
If you've always wanted to start a blog but just weren't sure where to start. Then I'm here to tell you that it's actually very simple and can be achieved in as little as 20 minutes.
The thing that throws most people off is deciding which platform to build your blog on. There are a plethora of different domain name companies and hosting accounts to choose from which can all seem daunting and can cause you to give up and just "do it later."
If you want to learn how to start a blog, here are some simple steps to highlight what to expect from the process.
Step 1: Decide Your Reasons and Subject To Start A Blog
Choose a subject to start a blog
We all start blogs for different reasons. Perhaps it's an added feature of your business, you have a unique issue that you want to talk about. As a way to allow people to better understand something you're doing, to offer advice, or just to get yourself published and practice your writing skills.
Whatever the reason, it's important to know for yourself why you want to start a blog and what subject should be, as this will give you a better drive and sense of direction.
Step 2: Choose a domain name
Choose a domain name to start a blog
If you've opted for the paid self-hosted platform, then this is where it starts to get exciting. Thinking up a domain name is what will be the first thing that people see and represents your blog and potentially what it'll be about. For example, www.myblog.com is simple and self-explanatory. It's always a good idea not to pick a name that's too long – you want people to be able to remember it.
Head over to a domain hosting site like Bluehost.com. This is a great site because they set up your domain name and web-hosting at the same time. Alternatively, you can choose separate sites for each; it may be cheaper that way but it can be easier to have it all under one hosting umbrella.
If you want to choose a domain name separately then Namecheap, GoDaddy, Name.com, GreenGeeks and HostGator are all great places to head to. Some of which also set up web hosting too. You can pay as little as $10 a year for your domain name but prices vary depending on who you decide to go with.
Once you have some blog name ideas you will need to choose a domain extension when you start a blog. .com is the gold standard, but .net and .org work just as well. I would suggest staying away from other extensions like .us or .biz, as they are not as familiar to most people.
Step 3: Choose a web host
Web hosting is basically connecting your domain name to the internet. You are effectively renting space on the world wide web and allowing people to have access to your blog.
If you haven't opted for a contained domain name and hosting package then there are a lot of web-hosting sites to choose from. The top three are Inmotion Hosting, Siteground, and Bluehost etc. 
Among them, BlueHost is particularly recommended for WordPress sites and regularly do lower monthly prices. You can pay as little as $3.95 a month for web hosting. All these have excellent customer service as well. So if you need a bit of extra support then they'll be on hand to help you out.
The web-hosters will point you in the right direction for installing your site. If you've opted for WordPress this will be really straightforward.
If you want to check reviews about best web hosting providers then check these web hosting reviews.
Step 4: Log in and Set Up Your Theme
This is where it gets creative! Once you've logged into your new site you will be faced with a blank canvas. So it's now that you need to think how you want your blog to look. There are numerous free themes to go for while you think about it, some of which are pretty nice and stylish.
You can opt to buy various themes such as Genesis and Mythemeshop and find extra plugins thrown in for free. Take your time to navigate your way around and get used to it all. It may seem overwhelming but just spending a day or two thinking and planning about the way it'll look will allow you to come to a concrete conclusion to move forward with.
Step 5: Write Your First Blog Post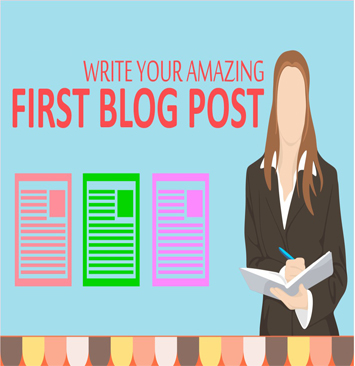 Once you've set up your theme and written an About page introducing yourself and what your blog is about, then it's time to write your first blog post after you start your blog. Here are some tips on how to write the perfect blog post:
Keep in mind that being a good blogger isn't all about writing. You also need to read other blogs to stay informed on what is popular and to get new ideas for your own blog.
You may visit a blog and see they have a really cool plugin that you want on your site. Usually, you can just ask the blogger directly and they will tell you all about it. This is a great way to improve the setup of your blog while also making connections in the blogging community.
Write Amazing Content
The heart and soul of a successful blog are great content. If no one wants to read what you are writing about then your blog won't be very successful.
One of the easiest ways to write content that people actually want to read is to answer a question about your topic that you have yourself. Chances are if you are wondering about something, so are other people. Obviously, you will need to do some research to find the answer. But once you do you will be providing valuable content that people actually want to read and share with their friends.
Step 6: Promote Your Blog
Promoting your blog is where I see the majority of bloggers fail. There are lots of great bloggers out there that no one has ever heard about. Simply because they don't know how, or just don't want, to promote their blog.
The most important tip I can give you about promoting your blog is to not be shy about telling people about your blog!
I have heard from many bloggers who tell me that they don't promote their blog simply because they don't feel it is worthy of promotion.
So just how do you promote your blog? Well, it turns out the most effective methods of promotion are free!
1. Social networks
Chances are that you already have a Facebook account, and maybe even a Twitter account as well. So when you post something on your blog, make sure that you also post a link to your blog post on your social accounts.
It also helps to connect with other people interested in your topic. Send a friend request to the top bloggers in your niche and make sure to follow them on Twitter as well.
You may be surprised at just how many people will find your post interesting and then share the link with their friends.
2. Commenting on other blogs
On many blogs, you can leave a comment along with a link back to your own blog. If you make useful comments on blogs related to your topic you will be putting your blog right in front of people who you know are interested in your topic.
Caution! Do not abuse this method.
If you are leaving terrible comments on posts just to get your name out there this will only hurt your blog. Furthermore, poor quality comments are likely to delete by the blog owner anyway.
If you make a useful comment people are more likely to visit your site. Since they will want to hear more about what you have to say on the topic.
See guide: How to write blog comments
3. Link to other blogs
One the best ideas for writing a blog post is to write a response to a post from another blog. This could be a blog post you disagree with, or simply a topic that you have something else to add to.
When you do this, make sure to link to the blog you are responding to. On most blogs, this creates what is known as a "trackback".
A trackback simply means that the blog you linked to will also post a link (automatically) to your blog. This means that anyone reading the other person's blog post will also see the link to your blog, and hopefully click on it to visit your site.
4. Guest posting
Another way to get readers of other blogs to hear about your blog is to write guest posts.
To write a guest post you simply need to contact other blog owners and offer to write a post on their site.
Not all bloggers are open to this idea, but if you can find a few who are it is a great deal for everyone. You provide them with quality content, and in return, you put a link to your blog in your post. If people enjoy your guest post then they are likely to visit your blog for more great content.
Also read: 300+ Top Quality Guest Posting Sites 2017
5. Online forums
If you haven't already, you should join popular online forums related to your topic. For example, if your blog is about dog training, join a couple of the most popular dog training forums.
Many forums will allow you to post a link to your site in the signature that goes at the bottom of every post you write. Some forums may require you to make a few posts before letting you do this.
Once you have joined a forum, make helpful posts. Just as with blog commenting, the content of your forum posts needs to be high quality and helpful. People are not going to want to read your blog if they don't find your forum posts to be helpful and interesting.
6. Frequent posting
The promotion methods above all focus on getting new readers to your blog. This is usually the most difficult step for any blog. However, you also need to make sure that once readers find your blog they come back!
Making new posts frequently (at least once a week, but preferably every 1-2 days). It is the key to building up and keeping a large following.
Your content may be fantastic, but if you only post once a month people are likely to forget all about your blog. You have to strike a balance between high quality and high quantity. This is a difficult balance for any blogger to achieve, as it is not always easy to write a high-quality post once a day or even once a week.