Affiliate Marketing: For many, the ultimate career goal is to achieve a passive income. A passive income is one which requires little to no work to achieve, leading to a whole range of amazing opportunities. There's no doubt that the chance to earn a
passive income and forget about having to work eight hours a day, five days a week is something that most of us would jump at. But, how does one achieve a passive income? For many, it seems just a nice dream. 
If you want to achieve a passive income and start living the life that you've only been able to imagine before now, affiliate marketing is becoming the pathway of choice for those looking to reach the goal of a passive income. With an increasing number of companies selling their goods and services online, affiliate marketing allows regular people to start home-based businesses and achieve a passive income by simply promoting and selling.
In this article, I will define it for you and explain the step by step process of how to perform affiliate marketing. So check out how to get started affiliate marketing guide step by step.
What Is Affiliate Marketing?
Affiliate marketing is the process of earning the income by promoting the products and services of other people or company. You can promote the products on different channels and earn the share of profit for the conversion.
Or
Affiliate marketing is an arrangement by which an online retailer pays commission to an external website for traffic or sales generated from its referrals. The may be ranging from $1 to $10,000 depending on what product you are promoting.
How does affiliate marketing work?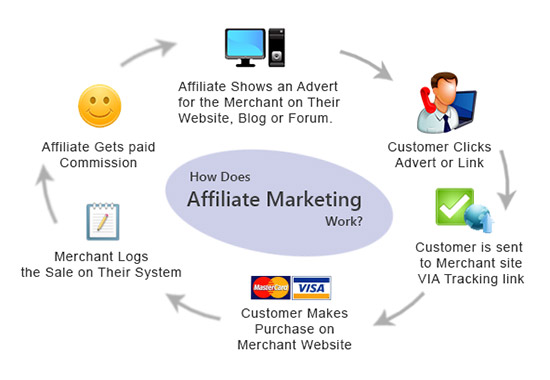 As an affiliate marketer, you will set up a blog or website which you will use to display advertisements provided to you by the companies which you represent. Each time a sale is made through your affiliate site or blog, you are paid a commission. Depending on the popularity and the success of both your website, the products and services that you promote and the company or companies which you promote for, there is a lot of money to be made from affiliate marketing, which is why it's important to get it right. 
If you want to know how to start with it, check out these four simple steps.
1. You can find out a product from the promotion.
2. You sign up the affiliate program available on their site.
3. You get a code or a special link that allows the advertiser or merchant to track the people who clicked on the link.
4. If they purchase the product, You get a commission.
Before you dive straight into being an affiliate marketer, there are a lot of things which should be taken into consideration. 
In order to be successful at affiliate marketing, it's important to have a good idea of how to create


and maintain a website.

Understand how search engine optimization works, and have a good working knowledge of social media and social media marketing. Staying up to date on all of these

Staying up to date on all of these topics is the absolute key to ensuring that your new affiliate marketing business venture doesn't end up.
Frequently Used Terms in Affiliate Marketing
Affiliates: People like us who are using affiliate program links to promote and make sales
Affiliate marketplace: These are the central database for affiliate programs in different niches.
Affiliate Software: These are the software which is used by companies to create an affiliate program for their products.
Affiliate link: It's a special tracking link offered by the company to track the progress of your affiliate promotion like sales, traffic, clicks etc.
Payment mode: There are various Payment methods which are used in affiliate programs like Paypal.

Affiliate Management Agency:

 A company or agency that runs a merchant's affiliate program for them.  Sometimes known as an OPM or outsourced program manager.

Click-Through

: When a user on your site clicks on one of your affiliate links and is directed to the merchant's site, it's known as a click-through. Everyone likes these!

Click-Through Ratio

: Sometimes known as the CTR, the Click-Through Ratio is the percentage of users on your site that actually does click on a link and goes to a merchant's website.

Commission:

 At the end of the day, it's all about the commission. That's the actual income paid out to an affiliate based on the number of sales, leads, or click-throughs to a merchant's site.

Rev Share

: Revenue Share is the percentage of a sale that a merchant pays out to an affiliate. Every merchant can set their own rev share percentage, and many will offer a higher percentage as a reward for good performance or even as an incentive.

Tracking Code

: Just a small piece of code (usually a 1×1 invisible pixel graphic) that helps record the number of sales or visitors to a specific page on your website.
FAQ For Affiliate Marketing
Is affiliate marketing genuine? Is it Harmful?
No, Affiliate marketing is not harmful anyway and its 100% legal marketing process. So you don't have to worry about it.
I want to become an affiliate. What do I need to do?
All you need to do is fill out the online registration form found there. As soon as your application has been submitted, They will need to manually approve it, a process that could take up to 3 working days. You will be notified via email when your application has been approved (or declined).
How Do I Find an Affiliate Service Provider for Any Product?
Visit any eCommerce website or online shopping website and search for affiliate marketing on the website. Or simply search in Google "product name + Affiliate program".
What is the cost of joining the Affiliate Program?
You have to pay nothing to the affiliate service provider. You just have to money on the internet and use your skills.
Can I place your ads alongside ads from Google Adsense or other advertising networks?
Of course, there are no restrictions whatsoever. You can promote our affiliate programs regardless of whether you work with other advertising networks.
What qualification do I need to join this program?
Do you have good knowledge of internet? If the answer is yes, then you can join affiliate marketing program.
Do I need to have registered a company to work with you?
No, you don't! You can choose to be paid as an individual and not as a company when you fill out your application form or by going into your account and changing your payment preferences after you receive access to the network.
How much can I earn as an affiliate?
This is not a question that can be answered in numbers. There are affiliates who are millionaires, known as super affiliates and then there are those who make very little and everything in between. Earnings depend on the type of methods used, the level of commitment and work that is put in, and learning proper techniques which are implemented in the correct manner. One thing is guaranteed, the earning potential is unlimited.